Submitted by Hawaii Self Storage Pearl City: Hawaii Self Storage would like to invite the community to its annual benefit garage sale to be held on Sunday, October 28 from 8AM – 2PM at the Hawaii Self Storage Pearl City location.
Something for everyone!

Furniture, Kitchen supplies, Household goods, Electronics, Clothes (Men, Women, Children) and Children toys.
PARKING: Free parking at Blaisdell Park!
100% of the proceeds will be donated to KAU KAU WAGON

The Kau Kau Wagon is a volunteer-based street level, grass roots, hunger outreach program. Started by the late Sharon Black in 1987, the Kau Kau Wagon's primary mission has been to relieve the hunger of the body and the soul. Their volunteer's do all they can for those in need…unconditionally. They turn no one away based on age, gender, race, religion, illness, handicap, financial or other status. Kau Kau Wagon's number one goal is to provide hope to those in need in our community.
For more information log on to: http://www.kaukauwagon.net/ and http://www.hawaiiselfstorage.com/

Hawai'i Self Storage Pearl City is located at:
98-138 Hila Pl. (Across from Blaisdell Park on Kamehameha Hwy)
Pearl City, HI 96782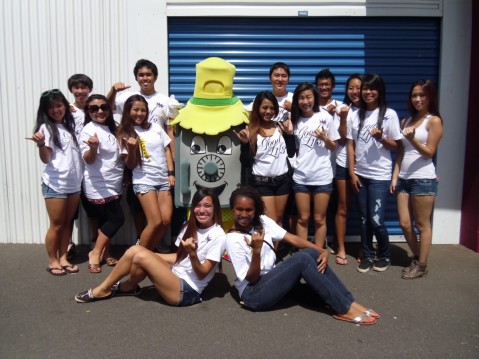 Photo courtesy of Hawaii Self Storage Pearl City
Volunteers from Pearl City High School class of 2013 pose with Mr. Safety at the Hawaii Self Storage Pearl City location.