Submitted by Kahala Associates:
When Kahala Associates mother–‐daughter REALTOR® team Yumi Laney and Christina Laney-Wycheck started their neighborhood food drive five years ago from their Pearl City home, little did they know that they would set donation records and become a model for others who want to help the hungry.
Their food drive has been so successful that the Hawaii Foodbank highlights it on its Website as an example for others to follow, complete with sample flyers: http://hawaiifoodbank.org/page37.aspx.
"We started doing the food drive because we realized that there is a great need in the community," said Laney-Wycheck. "We feel blessed to have been able to help local families and truly appreciate how supportive our neighbors, friends and colleagues continue to be, year after year."
This year marks the fifth annual food drive for the Kahala Associates duo. They are collecting dry and canned Goods for the Hawaii Foodbank through two food drives on Saturday, Nov. 10 from 9:30 a.m. to 12:30 p.m. in Pearl City, near 1306 Hoolaulea Street. Last year, they collected over 1,100 pounds of food by going door–‐to–‐door and picking up donations from their neighbors. In addition, fellow realtor Aileen Rodriguez-Chizer was inspired by their example and will be hosting a simultaneous food drive for the first time in the Kaimuki/Kapahulu area.
"We are truly grateful to Yumi and Christina for helping us to work towards ending hunger in our community," said Kim Bartenstein, food drive manager at the Hawaii Foodbank. "It's exciting to work with Aileen this year as well, and we are so thankful to Kahala Associates for their support. Each year, they find ways to make this food drive even bigger and more successful. The donations they collect brighten the holidays for hundreds of local families. Over the past three years, Yumi and Christina have collected 2,701 pounds of food, providing for over 2,100 meals for islanders in need."
The food drives are conducted via a two–‐step process:
1. One week prior, On Saturday, Nov. 3, the realtors will distribute bags provided by to neighborhood households. Laney-Wycheck and her mother, with help from members of the Chamber of Commerce of Hawaii's Young Professionals Program, will visit 400 homes in Pearl City. Hawaii Self Storage in Pearl City is providing boxes that will be distributed to the merchants at Pearl City Shopping Center. This is the first year that the Chamber of Commerce and Hawaii Self Storage are involved, and the first year that the Laney-Wycheck team is reaching out to businesses for donations.
2. On Saturday, Nov. 10, those who wish to contribute should put their donations in the bags and leave the bags out in front of their houses to be picked up. The realtors and their friends, family and other volunteers will collect the donations and take the food to the Hawaii Foodbank.
"We are proud of Yumi and Christina's efforts with the Hawaii Foodbank each year, and we applaud Aileen's initiative to replicate their successful model," said Myra Brandt, co—founder and broker–‐owner at Kahala Associates. "Their compassion for others and commitment to the community exemplify Kahala Associates' core values of caring service and going beyond expectations."
For more information or to make a donation, contact:
Pearl City: Christina Laney–‐Wycheck at (808) 282–‐1399
Kaimuki/Kapahulu: Aileen Rodriguez–‐Chizer at (808) 348–‐1782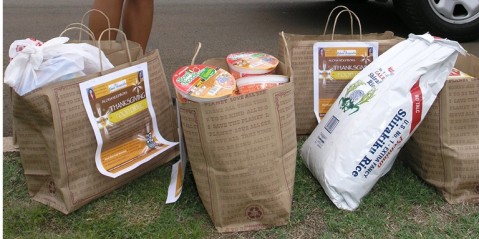 Photo courtesy of Christina Laney-Wycheck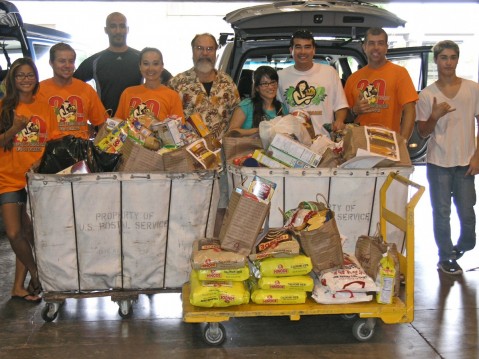 Photo courtesy of Christina Laney-Wycheck