In my younger years as a traffic reporter for Honolulu radio station KHVH 830AM, one the most important areas to update traffic conditions during the morning drive came from the "Pearl Jam" . The Pearl Jam extended from the H1-H2 merge, through Pearl City and Aiea on the H-I in the eastbound direction.
If there was a problem (stalled car, accident, etc.) anywhere along that stretch of freeway during the morning drive, you could pretty much guarantee an extended commute time to work or school.
Road reporters like, Ramblin Rob, Makakilo Mike, Gordo, Bob from Mililani and Pearl City Don would call in live reports from their cell phones along different stretches of the H-I and H-2 Freeways.
We all could have really benefitted from their reports yesterday afternoon following a 3:30pm accident on the H-1 near the Kaonohi overpass in the eastbound direction that involved a garbage truck that crashed into the median causing the Pearl Jam to live up to its reputation with traffic backing up on the H-1 from Ewa through the Jam .
You see, I was on the clock yesterday afternoon to make it out to Kaimuki High School by 5:00pm to cover the quarterfinals of the HHSAA Girls State Volleyball Championships that matched our Pearl City Lady Chargers against the Kahuku Lady Red Raiders. Following the volleyball match, I needed to head back to Pearl City to cover the Pearl City Foundation Annual Halloween Bash which was being held at the Momilani Community Center from 6pm-8pm.
I had a small window of opportunity to cover both events. My estimation was that the volleyball match would end no later than 6:30pm. Since the Halloween Bash was scheduled from 6pm-8pm, I thought that I had a chance to pull it off. No problem with normal traffic conditions, but yesterday's PM traffic was far from normal, island wide.
At 4:00pm I left my driveway with plans to take a photo of the Pearl Jam from the Kaahumanu Street overpass and then head out to Kaimuki High School via Kamehameha Highway, Nimitz Highway and all along the south shore right to Kaimuki.
The traffic reports on the radio were reporting that the H-I was crawling but Kamehameha Highway was okay. I remember when I was traffic reporter, I would often receive phone calls from KVHV listeners asking me (off the air) not to mention that Kamehameha Highway was clear during major slowdowns on the H-I because Kamehameha Highway was their clear shot to town. ( I would mentioned that Kamehameha Highway was moving along).
I got onto Kamehameha Highway in Aiea and took the H-I eastbound near the stadium. I came upon the H-I / Nimitz Highway split and made a huge mistake. I took Nimitz Highway and came upon what seemed like gridlock. I could see the traffic on the H-1 Airport Viaduct moving along while I wasn't going anywhere. It took me an hour and a half to make it to Kaimuki High School from that point.
Upon my arrival to Kaimuki High School, I came to realization that the volleyball match might have already been decided and I missed it. I was wrong. I walked in with yhe gym with Kahuku up 18-15 in the third set and 2-0 sets lead over the Lady Chargers. The Lady Red Raiders went on to sweep the Lady Chargers 3-0.
I was back in my car by 6:30pm and made my way through Kapahulu and came ran into a traffic jam that was just as bad as the eastbound traffic that I had just navigated through a half an hour earlier. The reality of missing the Halloween Bash was setting in. I'm not gonna make it I told myself.
Through it all, I experienced something that I will never forget as I made my commute back to Pearl City. It started in Kaimuki when I was pulling out of the Kaimuki High School gymnasium parking lot. Some of the neighbors from the apartments near the school had set up tables on the sidewalk and were handing out bags of candy to the neighborhood kids. They were sitting around, talking story with their neighbors, and having fun while making a lot of kids happy on Halloween Night through their generosity and spirit of giving.
I decided to stay off the freeway and ran into a backlog of traffic on Beretania Street. This time I could see neighborhood city kids making their way along Beretania Street near the Punahou Street area in McCully. This is how they Trick-or-Treat in town I thought. I grew up in the Mid West in the 60's and I remember standing in long lines to get a treat from neighbors. We would use a pillow case as a Trick-or Treat bag and come home with it filled with candy by the end of the night. (That's when you were given full size candy bars, apples, oranges and popcorn balls. It took up a lot of room, no complaints).
Moving along down the road on North Beretania Street, I came across a bunch of Trick-or-Treaters walking along the side of the road. Some of the businesses were handing out candy as well as neighbors from the neighborhood side streets. Firemen from the local fire station were out in front of their station greeting the residents.
I made my way out of Kalihi and on to Moanalua Freeway. More time spent in traffic while crawling towards the H-I westbound by the stadium. With darkness already fallen upon the freeway, my commute became more of a challenge trying to avoid careless, rude drivers who were using the merging lanes as a speedway while forcing their way into the lane. (Not even a thank you).
Believe it or not I was back in the Pearl Jam and happy to be there. I spent about a total of four hours in traffic by the time i pulled back into my driveway in Pearl City. Even though I missed the Pearl City Foundation Halloween Bash, my commute to Kaimuki and back gave me a snapshot of how other community neighborhoods on Oahu come together to celebrate Halloween with their family and friends.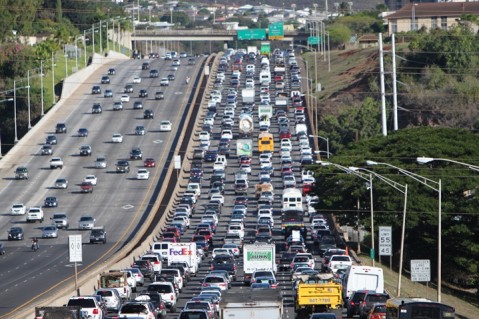 Photo by Barry Villamil | barry@mypearlcity.com
The "Pearl Jam" on the H-1 eastbound from the Kaahumanu Street overpass to the Kaonohi Street overpass. Wednesday's traffic back up on the H-I pictured following an accident that involved a garbage truck that crashed into the median near the Kaonohi overpass.