BLEIZN FX Productions hosted their annual Christmas Classic Car & Hot Rod Car Show on Sunday, December 2 at the Pearl City Shopping Center near the newly opened Flagship Fastlube store.
The car show also featured live entertainment and a chance to win two Sonny D ukuleles. Diana Harada of Honolulu and Kawika Delima of Kapolei were the lucky winners after their names were pulled Sunday night from a special drawing at the car show.
Classic Car and Hot Rod enthusiasts and Pearl City Shopping Center holiday shoppers mingled with the dozens of car owners parked on the property.
Lucky numbers were called for prizes donated by the event sponsors throughout the three hour event that ran from 5pm to 8pm. The BLEIZN FX Classic Car & Hot Rod Car Show followed the Annual Pearl City Christmas Parade presented by the Pearl City Shopping Center.
Mahalo to BLEIZN FX Productions co-owners Lei Naumu and Bernard Cabral for their efforts and success in producing another terrific car show and Sonny D ukulele giveaway that proved to be a real Christmas treat for our Pearl City community this holiday season.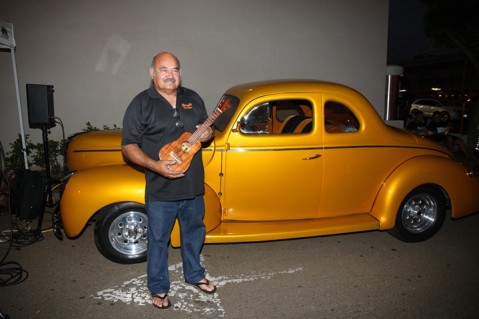 Photo by Barry Villamil | barry@mypearlcity.com
Sonny D pictured holding one of two ukuleles that were given away on Sunday. He is also the proud owner of the 1940 classic car pictured behind him which is currently for sale.

Send an e-mail to: barry@mypearlcity.com if you would like to get in contact Sonny D.