Hawaii and our Nation lost a true champion for the people on Monday as our beloved U. S. Senator Daniel K. Inouye passed away at the age of 88 from a respiratory ailment at a Bethesda, Md. hospital.
Senator Inouye served over 50 years in Congress and was also a Medal of Honor recipient for his bravery while serving with the infamous 442nd Regimental Combat Team during War World War II.
Our Pearl City community benefitted from Senator Inouye's position in Washington from his successful efforts to save thousands of jobs at the Pearl Harbor Naval Shipyard, to his unending support, along with Hawaii's U.S. Senator Daniel Akaka for education and our Pearl City District Complex Schools.
In 2010, Momilani Elementary School in Pearl City, along with Ewa Beach Elementary and Royal School Elementary were named 2010 National Blue Ribbon Schools. Senator Inouye congratulated the schools with the following press release quote:
"The education situation in Hawaii is extremely challenging as teachers, students, and parents deal with shrinking budgets and the lingering effects of furlough Fridays. I would like to extend my sincere congratulations to these fine schools and to the students, teachers, parents and support staff who worked through fiscal hardship to ensure that our next generation of leaders receives the knowledge and guidance they require," ….Senator Daniel K. Inouye.
Senator Inouye was also instrumental in securing funding from Congress to support programs for Hawaii schools with military populations. Lehua Elementary School in Pearl City is a beneficiary of the "Joint Venture Education Forum" that was set up through Senator Inouye.
Lehua Elementary School Principal Fay Toyama talked about the funding during a 2009 interview for MyPearlCity.com.
"We're part of "Joint Venture Education Forum" that is an organization set up through Senator Daniel Inouye. It's funded by Congress and they have about 5 million dollars a year to be divided into different programs for Hawaii schools with a Military population. So every year there are grants available. The funds come out and through Joint Venture Education Forum we write grants or we put in requests and then we receive funding from there. That's how we've been able to survive. If not for that funding I would not be able get all the technology that we have in our school." ….Lehua Elementary School Principal Fay Toyama
I had the honor of meeting with Senator Inouye back in the late 90's as a producer for the Rick Hamada Show on KVHV 830 AM. The Rick Hamada Show was chosen by C-SPAN to broadcast a live interview with Senator Inouye on a program called the C-SPAN School Bus that was touring all 50 states with Hawaii being their last stop. We spent an hour interviewing Senator Inouye on the C-Span cable network at the corner of Punchbowl and Beretania Streets near the State Capitol.
I fielded calls as a broadcast producer from all over the country that not only praised Senator Inouye, but also congratulated him for his distinguished service, dedication, and the sacrifices he has made for all Americans.
At the end of the interview, Senator Inouye and his staff stayed around for few minutes to talk story with the crew. He personally thanked everyone involved in the broadcast. I will never forget that day and the honor of being able to meet such a respected and humble man.
There will never be another Senator Daniel K. Inouye, but as Americans, we will benefit for generations to come, as his lifelong accomplishments live on through the strength of his legacy.
MyPearlCity.com would like to send out our condolences to his family, loved ones, and friends.
Aloha Senator Inouye!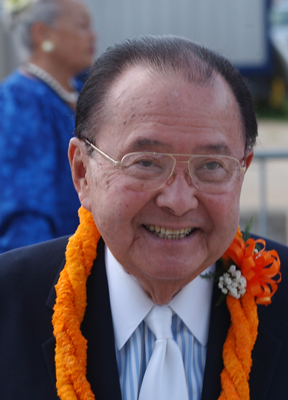 AP File Photo