Newly elected State House of Representative Gregg Takayama (34 District, Pearl City) would like to announce his State Capitol office contact information to Pearl City residents in his district.
Rep. Takayama is already hard at work in his new legislative office and has also volunteered his time in lendind a hand in several Pearl City community service projects in the past few months.
MyPearlCity.com would like to congratulate and welcome Rep. Takayama and his staff. We are all looking forward to working with him on improving and caring for the needs of our Pearl City residents and their Ohana through his leadership role in the State House.
Hawaii State Capitol contact information:
Representative Gregg Takayama
Dist. 34
RepTakayama@capitol.hawaii.gov
Phone: 586-6340
Fax: 586-6341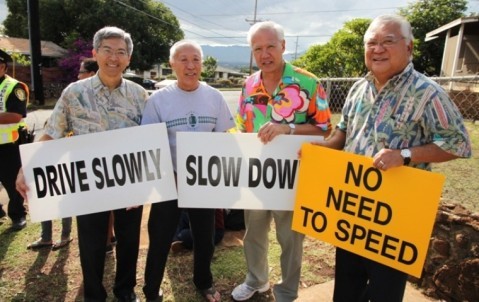 Photo by Barry Villamil | barry@mypearlcity.com
Rep.Takayama volunteered while a State House (District 34) candidate, to help bring awareness to traffic safety at the intersection of Waimano Home Road & Leomele Street. Pearl City resident Guangha Wen was killed in July while in a crosswalk on Waimano Home Road near Leomele Street.

(From left to right) Honolulu City Councilman Breene Harimoto, Ron Wen (husband of Guangha Wen), State House (District 34) candidate Gregg Takayama, and State Senator (District 18) Clarence Nishihara.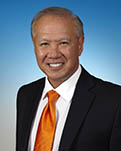 Photo by Barry Villamil | barry@mypearlcity.com
Rep. Takayama pictured volunteering at Waiau Elementary School during the school's Adopt-A-School Day Campus Clean Up earlier this fall.

Rep. Takayama prepares a hole that will be the new home of a Hibiscus tree when planted in front of the school administration building. Takayama helped secure dozens of plants from the University of Hawaii Urban Garden Center in Pearl City that were donated to Waiau Elementary School.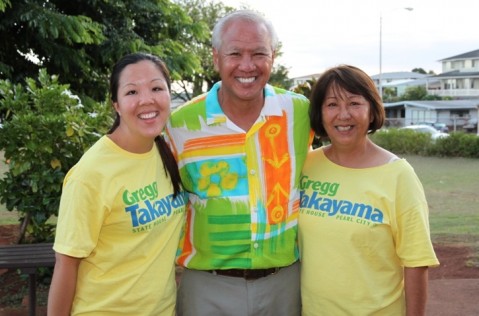 Photo by Barry Villamil | barry@mypearlcity.com
MyPearlCity.com welcomes Rep. Gregg Takayama and his Ohana.

Photo courtesy of Representative Gregg Takayama