The Pearl City Chargers kept their regular season win streak alive at 6-0 after defeating Waialua last night 38-26 in OIA Red Western Division Varsity Boys Basketball played at Pearl City High School.
Waialua entered the game at 1-3 but didn't play like a team below .500 as the Bulldogs took the first quarter 10-7 much to the surprise of the red hot Chargers.
In the second quarter, Waialua held a 16-14 until Tyson Hickcox tied the game at 16-16. Hickcox was fouled on the play and went to line shooting one which he converted to give the Chargers the lead at 17-16 with 1:43 on the clock. Hickcox came back and hit on a pair of free throws to put the Chargers up 19-16. Sonny Glisson drained a 3-pointer as time expired to give the Chargers a 22-16 halftime lead. Glisson scored three 3-pointers in the game.
The Chargers outscored the Bulldogs 12-2 in the third quarter to take a 34-18 lead into the fourth and final period. Pearl City moved the ball around with skill in the fourth quarter, burning up a good portion of the clock. Waialua actually outscored Pearl City 8-4 in the final quarter but it wasn't enough as the Chargers margin of victory over the Bulldogs was in double digits at 12 points.
Pearl City's Tyson Hickcox pumped in a game high 15 points for the Chargers. Sonny Glisson scored 11 points which included three 3-pointers.
Waialua's Keevin Cuadro led the Bulldogs with 7 points with one 3-pointer.
Pearl City returns to league play on Thursday, January 24 at Aiea High School to . take on the Na Ali'i. Tip-off is set for 7:00pm following the junior varsity contest which is scheduled for 5:30pm.

Go Chargers!

@ Pearl City High School
Waialua (League 1-4) 10 6 2 8 26
Pearl City (League 6-0) 7 15 12 4 38

Photo by Barry Villamil | barry@mypearlcity.com
Pearl City's Tyson Hickcox pictured at the line in the first quarter. Hickcox converted a free throw to give the Chargers a 17-16 lead with 1:43 remaining in the quarter.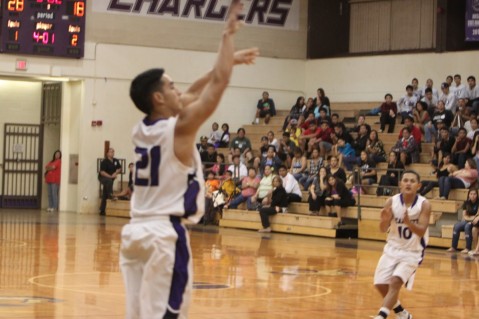 Photo by Barry Villamil | barry@mypearlcity.com
Sonny Glisson throws up a shot from three point range. Glisson hit three 3-pointers against Waialua on Friday.

Photo by Barry Villamil | barry@mypearlcity.com
The Pearl City Chargers Varsity Cheer Team takes a break from cheering on the Chargers for a photo op inside the Pearl City High School Gymnasium.

Junior Varsity

Waialua 37
Pearl City 59