The Pearl City Chargers (8-1) were forced to utilize their reserve players last night to defeat Waipahu 52-40 in OIA Red Western Division Boys Varsity Basketball played at Waipahu High School.
Several Chargers senior starters were missing from the lineup last night due to disciplinary reasons. Their absence gave the reserves an opportunity to get on the court and clock in some extra playing time which they took full advantage of in the win over Waipahu.
Bricen Shafer led the Chargers with 13 points. Joshua Cubi added 12 with two 3-pointers. Eric Del Pena 10, Bryson Galderia 8 and one 3-pointer, Zach Kaya 6, and Shandy Reyes 3, rounded out the Chargers scoring.
Triton Tatupu led the Marauders with 13 points followed by Keanu Deboma with 12 points. Jed Pagtuligan 7, Ryan Mendoza 4, Jusyl Timbobolan 2, Bryan Mason 1, and Al Jerome Leano 1, also contributed for the Marauders.
The two teams played to a 23-23 tie to end the first half and traded the lead late in the third period before the Chargers pulled away in the final period to win by 12 at 52-40.
Pearl City improved their regular season league record at 8-1 while Waipahu fell to 1-7.
Pearl City finishes the regular season on the road at Waianae on Monday, February 4 with tip off set for 7:00pm following the 5:30pm junior varsity game.
@ Waipahu High School
Pearl City (8-1 league) 13 10 11 18 52
Waipahu (1-7 league) 8 15 7 10 40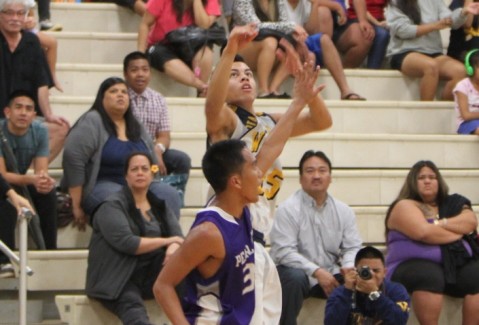 Photo by Barry Villamil | barry@mypearlcity.com
Keanu Deboma nails a 3-pointer to give the Marauders a 23-21 lead with :35 seconds remaining in the first half. Deboma finished the game with 12 points which included three 3-pointers.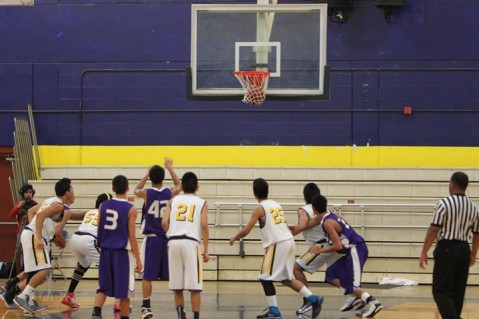 Photo by Barry Villamil | barry@mypearlcity.com
Bryson Galderia pictured converting the second of two free throws to tie the game at 23-23 with 21.3 seconds left in the second half.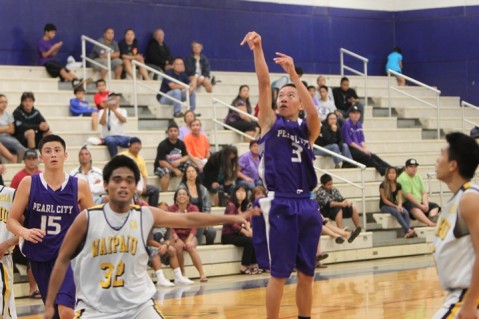 Photo by Barry Villamil | barry@mypearlcity.com
#3 Eric Del Pena fires up a shot in the second half. Del Pena scored early in the third period to break the 23-23 tie and put the Chargers up 25-23. Del Pena pumped in 10 points for the Chargers.

Photo by Barry Villamil | barry@mypearlcity.com
#45 Triton Tatupu pictured at the foul line converting a three point play that put the Marauders up 30-29 with 2:30 on the clock in the third period. Tatupu led Waipahu with 13 points.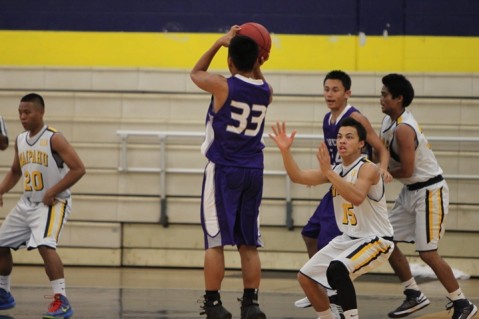 Photo by Barry Villamil | barry@mypearlcity.com
#33 Joshua Cubi had a hot hand for the Chargers scoring 12 points with two 3-pointers. Cubi pictured here putting up a shot in the first period. Cubi moved Pearl City out in front of Waipahu 32-30 after hitting a 3-pointer with 1:28 remaining in the third period.


Photo by Barry Villamil | barry@mypearlcity.com
Zach Kaya converts a free throw late in the fourth period to add to the Chargers lead. Kaya finished the game with 6 points.

Junior Varsity:
Pearl City 39
Waipahu 33
The Pearl City Chargers junior varsity team picked up their second win a row after defeating Waipahu 39-33. The Chargers improved their league record to 4-5.