Keeping students safe in our schools here in Hawaii and across America is a growing concern for school administrators, law enforcement officials and especially for parents after a string of incidents that have raised the question of whether our children are truly safe and secure during instructional school hours.
Yesterday's mid-morning lock down of Palisades Elementary School in Pearl City due to burglary suspects on the loose near the school, served as an example of how a school responds to an emergency situation and the school's ability to protect their population of students and staff on campus.
Palisades Elementary School Principal, Suzanne Yamada gave MyPearlCity.com the following statement on how the school responded to the lock down and how the school prepares for this type of situation with lock down drills that helped everyone remain calm and safe during yesterday's ordeal.
At approximately 10:50 a.m., the Honolulu Police Department asked Palisades to lock down the school because two nearby homes were burglarized and one of two suspects was seen running towards the school. The school implemented lock down which lasted until 2:00 p.m. By the close of school, the suspect still had not been apprehended. All children were released to a parent or designee or A+. At all time, ALL CHILDREN WERE KEPT SAFE INDOORS.
Lock down was implemented without any problems. Children and Staff knew what was expected and the campus was cleared immediately. Shortly after implementation of lock down, a police officer informed the school that officers had checked the campus and the suspect was not on campus but was still in the vicinity of the school. The students and staff have practiced lock downs as a drill and were well prepared.
Like most emergencies, the day's emergency posed unexpected challenges. Half of the school had not had lunch yet. But a call through the school's intercom system brought available adults to the cafeteria to carry boxes of lunches to the classes that needed lunch. At the close of school, the suspect still had not been apprehended making it necessary for all students to be released to a parent or designee. A plan for student release was shared through the school's email system. Again, available adults came out to assist by lining the hallways and walkways to make sure students were safe as they were called out by families when parents arrived. Staff members worked together as a team to ensure the safety and security of all students.
A school's greatest asset during an emergency is a staff of caring adults. We can never predict everything that will happen, but flexible staff members who care about all children can provide a very safe environment.
….Suzanne Yamada, Principal, Palisades Elementary School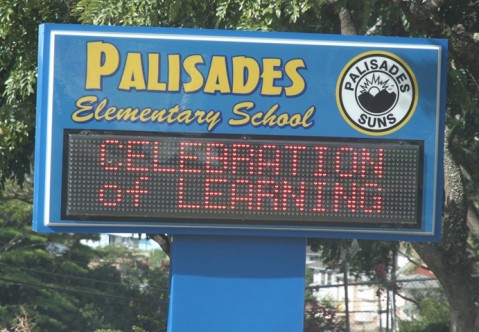 Photo by Barry Villamill | [email protected]