The Pearl City Shopping Center (PCSC) recently welcomed newly opened Nail STARS to the list of PCSC tenants that deliver excellence and quality in the products and services that they provide to our Pearl City community
Nail STARS owners Christopher Wu and Nadiene Oh are proud and excited to offer a wide range of services from their professional staff that includes nail services, nail care, pedicures, and complete nail packages.
"We provide nail services and nail care for aesthetic and health purposes," said Christopher Wu. "People who want to maintain their pedicures, like for the elderly who cannot cut their own toe nails, we provide a service for them. Customers who want to go to proms or dates also come in for aesthetic designs."
Nail STARS has been open for just about a month and business has picked up due to the foot traffic and convenience for residents who patronize the Pearl City Shopping Center.
"It's been very promising because we have a lot of foot traffic around this area," Wu said. "I've been hearing that it's very convenient for the people who live in the area to come to us."
What's most important to owners Wu and Oh is that Nail STARS provides the best customer service possible for its clientele.
"Customer service is definitely our priority," Wu said. "We want to keep people happy so that they come back. We just want to make sure that we provide the best service as possible."
Nail STARS is located on the Mauka side of the Pearl City Shopping Center next to Pizza Hut and near Foodland Supermarket.
For more information and to make an appointment, please call Nail STARS at: 455-7827. Walk-ins are also welcomed!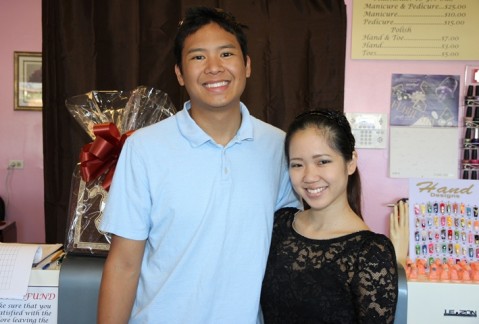 Photo by Barry Villamil | barry@mypearlcity.com
Nail STARS owners, Christopher Wu and Nadiene Oh pictured at their newly opened Pearl City Shopping Center location.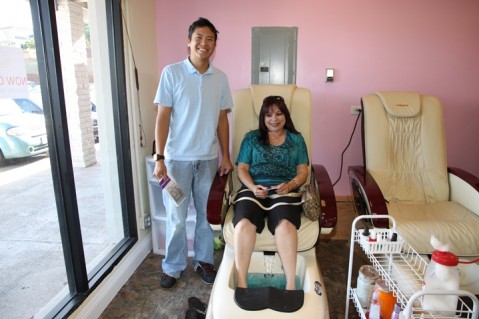 Photo by Barry Villamil | barry@mypearlcity.com
Christopher helps out with a happy Nail STARS customer on Saturday, February 2, 2013.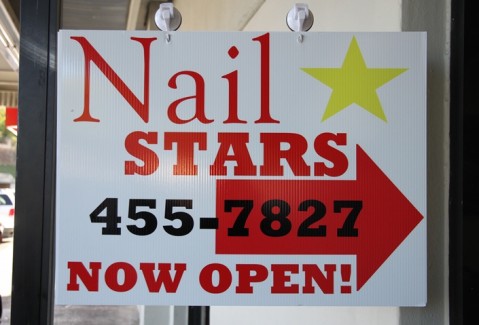 Photo by Barry Villamil | barry@mypearlcity.com