The Pearl City Chargers qualified for the HHSAA Division I State Basketball Championship Tournament last night with a 46-30 win over the Campbell Sabers in the OIA Red Division Championship Tournament 5th place semifinals played at Pearl City High School.
Pearl City (10-2) travels to Kapolei High School on Friday to take on Mililani (9-4) for 5th place. Tip-off is set for 5:30pm. Mililani defeated Kahuku (8-6) 63-56 last night at Mililani High School.
Kapolei (11-1) and Farrington (11-4) will play for third place at 7:00pm. Kapolei was beaten by Moanalua (12-1) 44-31 and Farrington fell to Kalaheo (13-0) 55-49 in semifinal match-ups.
Kalaheo and Moanalua will play for the OIA championship on Saturday, February 16 at McKinley High School with tip off set to follow the OIA White Division Championship game between Kailua and Waianae scheduled for 5:00pm. Both OIA Championship games will be broadcasted live on Oceanic O16.
In last night's Pearl City vs. Campbell contest, Tyson Hickcox led all scorers with a game high 14 points for the Chargers. Jayce Bantolina pumped in 8 to lead the Sabers. It was the second win for the Chargers over the Sabers this season. The Chargers came out on top in the first meeting during the regular season 45-30.
Pearl City also defeated Friday's opponent Mililani, 45-36 on January 5 during the regular season.
Go Chargers!
@ Pearl City High School
Campbell (9-6) 7 6 5 12 30
Pearl City (10-2) 11 16 6 13 46
Campbell – Jayce Bantolina 8, Solomon Leaeno 7, Gilbert Dayanan 6, Justin Tago-Sue 3, Melvin Bergado 2, Joshua Michael Forte 2, Juan-Paulo Felizardo 2.
Pearl City – Tyson Hickcox 14, Sonny Glisson 10, Isaac Amorin 8, Eric Dela Pena 5, Reymart Rosario 4, Daicorri Briscoe 3, Zach Kaya 2,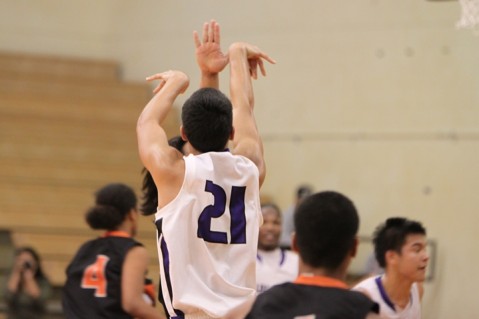 Photos by Barry Villamil | [email protected]
Pearl City's #21 Sonny Glisson scored 10 points which included two – 3 point goals.