The Pearl City High School (PCHS) Project Graduation Program held their annual Car Wash & Waffle Dog Fundraiser on Saturday at Cutter Ford in Aiea.
PCHS Project Grad committee members, PCHS staff, students, parents and community volunteers joined forces to man both the car wash and waffle dog stations.
A portion of the proceeds from Saturday's fundraiser are being designated to help secure a safe graduation night for the graduating seniors. Funds also go towards the support of PCHS Project Grad programs throughout the school year.
Mahalo for the continued support from the Pearl City community for helping to make Saturday's PCHS Project Grad fundraiser a big success. Your generous donations provide much needed funds for the graduating PCHS class of 2013 while building upon the foundation for future graduating classes as well.
Photo by Barry Villamil | barry@mypearlcity.com
Mahalo to the Pearl City community for investing in the future of our Pearl City High School students!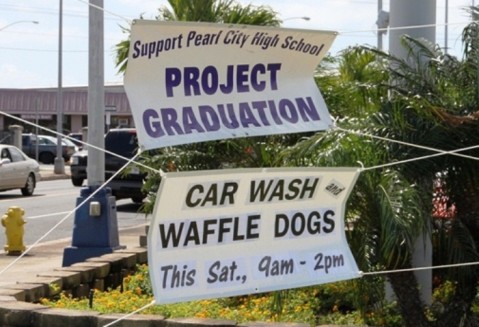 Photo by Barry Villamil | barry@mypearlcity.com