Sunday's Pearl City Chargers Boys Varsity Soccer team banquet held at Fort Shafter's Hale Ikena was a celebration of the rewards that come from a mutual respect between player and coach and those that encourage and truly support our student athletes on and off the playing field.
I had the honor of being invited to yesterday's end of season banquet and came away with a great sense of respect and admiration for the special bond between Chargers Head Coach Randy Shinn and his coaching staff and how that bond connects them with their players and the players as teammates.
With a heavy heart, Head Coach Shinn and his staff also recognized nine seniors with a sendoff that was both emotional and entertaining as coaches and players were given the opportunity to take to the podium to tell their most memorable moments and stories.
The seniors gave thanks and praise to their position coaches for guiding and molding them into the players they that have become today with the hope of possibly taking their skills to the next level. They also thanked their parents for their support throughout the years. If you have ever been, or are currently a soccer mom or dad, you know the drill with regard to the effort it takes to keep them playing the game.
Head Coach Shinn gave praise to his players for their hard work that has led to their success in the three to four years that he has had them under his wing. He also reminded everyone that it took a good amount of discipline and many adjustments along the way to build their skills and shape them into their senior leadership roles that have successfully been passed on to their underclassmen teammates.
Coach Shinn is also on a mission to help prepare his student athletes for life beyond competitive soccer in order for them to reach their higher education goals. As a teacher at Ilima Intermediate School in Ewa Beach, Shinn has chosen a career as an educator with the philosophy that education comes before sports.
"Having a winning record isn't everything," said Shinn. "I try to stress the importance of education to my players to prepare them for life after soccer."
Coach Shinn has both the education component and winning record coexisting with one another. As each senior stepped up to the podium to say a few words, Lane Tomita and Sean Barker both thanked their position coaches for writing up and completing their Letter of Recommendation requests. Tomita is thinking about entering the field of aviation to become a pilot and wanted to thank his coach Chris Lee for the quick 24 hour turnaround time that it took to present him with a LOR.
With regard to a winning record, the Chargers finished the regular season at 7-3 in the OIA Red Western Division. The Chargers finished in third place in the OIA Red Division Championship Tournament. Pearl City went on to place sixth in the HHSAA State Soccer Division I Championship Tournament. The Chargers ended the 2012-2013 regular and post season with a record of 12-6.
I would like to once again thank Head Coach Randy Shinn and the Pearl City Chargers Boys Soccer ohana for the opportunity to attend and be a part of their special celebration.
Mahalo for the beautiful lei, the autographed team picture and the awesome brunch buffet! First Class all the way!
Aloha to the Seniors!
Jacobus Rozemond, Brock Honda, Lane Tomita, Tyler Takamune, Sean Barker, Derek Chang, Tyler Terashima, Jared Louis, Zachary Brashers.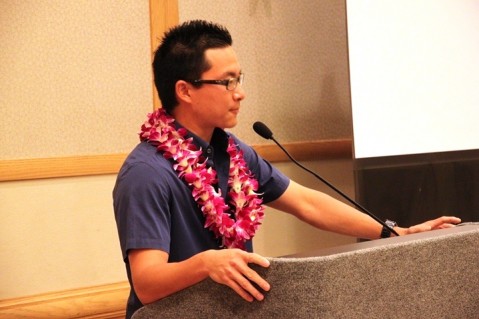 Photo by Barry Villamil | [email protected]
Chargers Head Coach Randy Shinn pictured speaking about his players and their successful 2012-2013 season.

Photo by Barry Villamil | [email protected]
Pearl City Chargers coaching staff (from left to right) Kaimi Seminara, Derek Kawano, Head Coach Randy Shinn, Larry Shinn and Christopher Lee.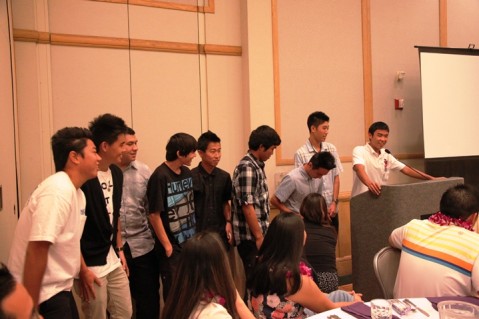 Photo by Barry Villamil | [email protected]
Nine Pearl City Chargers soccer team seniors line up to get their chance on the mic to give thanks and share their best memories.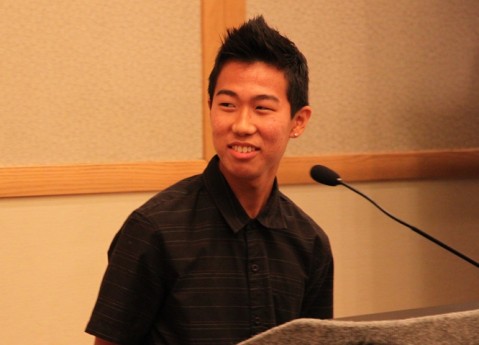 Photo by Barry Villamil | [email protected]
Pearl City Chargers leading scorer Lane Tomita takes a few moments to thank everyone for guiding his soccer career and also shares his dreams for the future.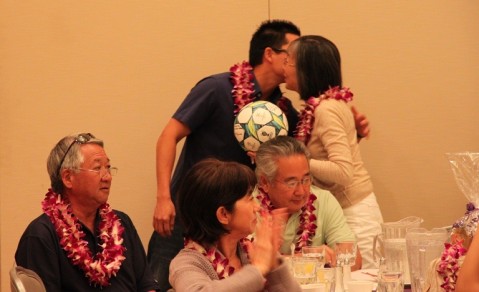 Photo by Barry Villamil | [email protected]
Ms. Charlene Ochiae receives an autographed soccer ball from Head Coach Shinn that was signed by the 2012-2013 Chargers soccer team. Ms. Ochiae, who is a Language Arts Teacher at Pearl City High School, was honored for her years of service helping the student athletes with their study hall.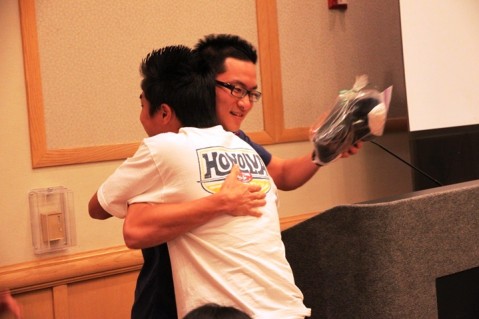 Photo by Barry Villamil | [email protected]
Senior Derek Chang gives his coach an Aloha hug as gifts were being handed out to the players.

Photo by Barry Villamil | [email protected]
Charger teammates let their position coach (who they affectionately call Buddha), Chris Lee know that they appreciate all that he has done for them with a group hug.