As the Maryknoll High School Spartan varsity basketball program prepares to take their 2013 Division I ILH Championship title into tomorrow's quarterfinals of the Hawaiian Airlines HHSAA State Boys Division I Basketball Championship tournament as the #1 seed, up and coming Spartan basketball players like sophomore Keoni Inaba have been inspired to follow in their championship footsteps and contribute to the Spartan legacy of success.
Inaba, who is born and raised in Pearl City, is working hard to his improve his basketball skills in order to make the jump from the Spartans junior varsity to the varsity at either the Division I or Division II level.
"Keoni is doing fine," said Maryknoll Spartans Division II assistant basketball coach Dean Miyamoto. "He just finished his JV season and he was one of the players that played a lot. He practices hard and understands the game. He's progressing fine and will probably move up to either the Varsity I or II level next year. Overall, Keoni is a really good person and a team person with a nice personality and really works hard."
Inaba and several of his junior varsity teammates joined the Varsity II program after the regular season to help out the team while gaining experience participating in drills and scrimmages.
"It's kind of a two-fold thing," Miyamoto said. "Getting the kids who are coming up from JV to get more experience and kind of get used to the things we do. It helps us out because we've been down quite a bit in terms of injuries and things like that. The JV kids coming out also help us to be able to do more drills and do more scrimmages. If you're are Maryknoll basketball player, you're part of the program so we try to encourage kids to play with each other and get to know each other."
Playing together and learning the game from Spartans Varsity II head coach Richard Miyasaka and assistant coach Dean Miyamoto has taught Inaba and his junior varsity teammates the need to play within their assigned roles and responsibilities while on the court.
"Role playing is important because most of the younger kid's mental game is just to score," Inaba said. "Certain people have to fill the roles like the point guard is not going to grab all the rebounds. It's about playing as a team and playing your role."
As a small forward, Inaba knows he will be called upon to sharpen his passing skills and perfect his 3-point shot.
"I have to pass the ball a lot and I don't get too many shots off but I'm fine with it because as long as we're all on the same page and we all play together and we come out with a win than I'm happy." Inaba said. "Coach Grant (Spartans DI Head Coach Kelly Grant) was helping me with my shooting, and how my ball rotates because he said that if I was to play Division I he would need me just to make my 3's because he knows that I'm short ."
Since the seventh grade, Inaba has incorporated the services and expertise of former University of Hawaii Rainbow Warrior Star Tes Whitlock who runs the OTB – Off The Bench program.
"He's a good coach," Inaba said with great respect. "He really knows a lot about the game and he really helped me and taught me a lot since seventh grade. If it wasn't for his training and his coaching I probably wouldn't be where I am right now with my basketball skills. I play for his club team OTB – Off The Bench after my ILH season."
As much as Inaba loves to play the game of basketball, he enjoys attending Maryknoll High School and the opportunities, friendships, and interesting classes that have allowed him to help others.
"I like the school and I like the atmosphere because a lot of people here are humble," Inaba said. "One of my favorite classes is Japanese. We go on a lot of field trips and learn a lot in fun ways, not just by reading a book. We're involved in a lot of activities. I also enjoy Chemistry too. I would really like to get into acting. I've been trying to get into the Drama classes but the classes are packed and it's hard to get in."
"In my freshman year, since I was new to Maryknoll, they have this thing called "Essential Skills" and it's for all the new incoming freshmen. It was optional and my mom encouraged me to sign up. We went to all these different places like taro patches and fish ponds. The time spent was counted as our community service for our freshmen year. I had a total of 25 hours. So far in my sophomore year I have 10 hours credited towards my community service. I've been to the grade school a couple times to help teach the kids some Japanese. "
Inaba is good kid with a big heart. He wanted to make sure he was given the opportunity to recognize and give credit to those who play an instrumental role while guiding him through life.
"I want to thank my mom (Candy) who got me into basketball in sixth grade. I told her I didn't want to play because I didn't know how to and she said oh no, just go out and try. Also thank you to my dad (Brian) for encouraging me and to all my family, and of course to God who helped me and gave me the strength to do everything."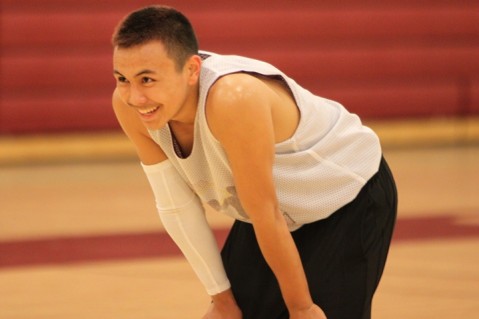 Photo by Barry Villamil | [email protected]
Keoni Inaba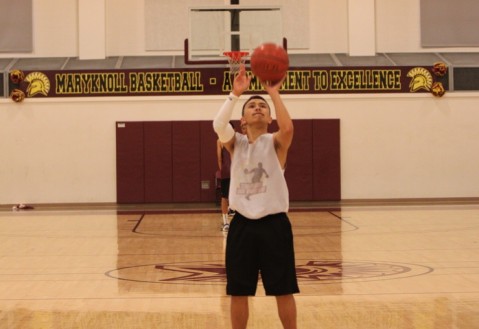 Photo by Barry Villamil | [email protected]
Keoni pictured working from the free throw line during practice at the Maryknoll High School Gym in Makiki..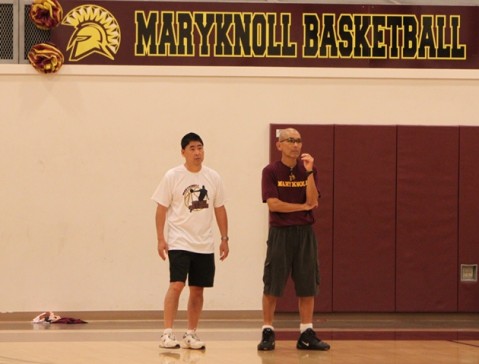 Photo by Barry Villamil | [email protected]
Maryknoll Spartans Division II head coach Richard Miyasaka (right) and assistant basketball coach Dean Miyamoto (left) pictured overseeing practice recently at the Maryknoll High School Gym in Makiki..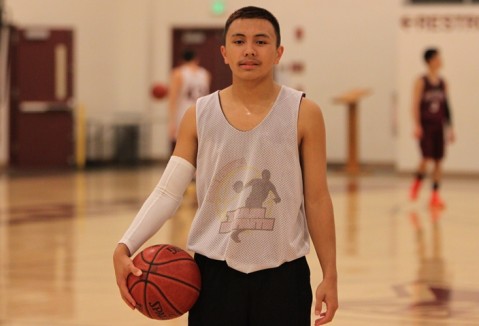 Photo by Barry Villamil | [email protected]
Good luck Keoni!