The Pearl City Lady Chargers made history last night after winning the school's first HHSAA State Girls Wrestling Team Championship at the Blaisdell Arena.
Throughout the long, grueling two day event, the Lady Chargers kept their focus and concentration on the prize in front of them, a state championship title. A girl's state wrestling championship title that in the 40 year history of the Chargers Athletic Department has ever reached the department's championship showcase. Well, until last night.
Chargers Head Coach Mike Lee and his coaching staff were beaming with pride as the girls fought through each match. Senior leadership played a key role as well as the entire team stepped up in support of their teammates who qualified for the championship rounds on Saturday.
"It feels great for the girls," said Coach Lee. "All the girls came through, even the girls who didn't qualify for today that got eliminated yesterday, they all came through. It was a team win. The seniors really stepped through. They're a lot more mature than they were last year. You know last year there were some hiccups, and this year they finished it off with a bang."
That bang resonated around the Blaisdell Arena as the Lady Chargers were announced as the 2013 state champions. Janelle Fuamatu, who captured the 155 lbs. individual championship title, summed it up with regard to her feelings about winning and the love she has for her teammates, her girls.
"It feels awesome, said Fuamatu. "There's nothing that I can explain how I feel right now. I'll take my girls to war anytime. I love them so much. We trained too hard to lose. I would like to thank my family and my coaches and my team."
The Lady Chargers brought home three first place individual championship titles, one second place, one third, and two fourth place finishes.
The team compiled a total of 158.00 points to runner-up Kamehameha Schools- Kapalama who totaled 151.5 points.
Former high school state championship wrestling coach and longtime state wrestling tournament official, Todd Los Banos made a return to the officials table this year and gave the tournament a thumbs up after being involved in a new role, new task, and great camaraderie working with the volunteers and coaches.
"I'm working alongside Carl Schroers who is the co-coordinator with Ed Paola who is the Director of the tournament and just organizing and working with Chris Chun and the HHSAA for the boys and girls state wrestling tournament," said Los Banos. "I think it's been a good success this year, like every year, but this year coming back and working with the group has been great. I usually help through the years at the head table, but this year helping as a score coordinator is something new. Working with all the volunteers and some of the coaches has really made it a good year.
As a former highly successful high school wrestling coach, Los Banos knows the hard work and dedication that it takes as a wrestler to make it through a state championship tournament. It also takes a great amount of support from the event organizers and volunteers to run a smooth tournament. Something that Los Banos is more than happy to do. Giving back keeps him in touch with the athletes and offers the support needed to compete at a high level.
It's a long process," said Los Banos. "It's a battle for these athletes here. For them to just make it here is a great success for them. Wrestling is a great sport that challenges you as person. For me, this is something I do to give back to the wrestling community once year. It's something I look forward to every year."
Pearl City Lady Charger Medalists:
105 Lbs First Place Breanne Takaesu
109 Lbs. Fourth Place Sarah Grace Alegria
113 Lbs. First Place Xandria Ford
117 Lbs. Third Place Joen Tominaga
121 Lbs. Second Place Asia Lien Evans
130 Lbs. Fourth Place Kaimiloa Evans
155 Lbs. First Place Janelle Fuamatu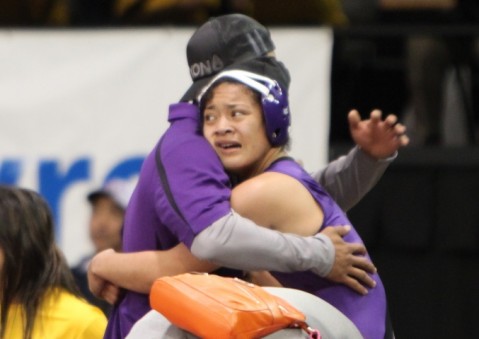 Photo by Barry Villamil | [email protected]
Janelle Fuamatu gets a congratulatory hug from her coach after winning the 155 Lbs title over Campbell HighSchool's Kuuleilani Lankford (D: 6-3).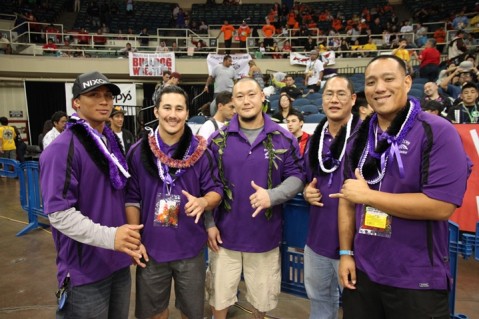 Photo by Barry Villamil | [email protected]
Pearl City Chargers Head Coach Mike Lee (center) is pictured with his coaching staff on the floor of the Blaisdell Arena.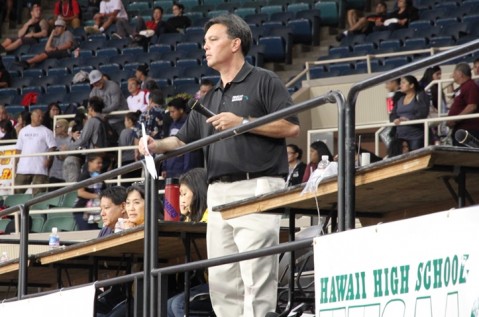 Photo by Barry Villamil | [email protected]
Tournament Official Todd Los Banos pictured calling out the order of the top six boys and girls in each weight class who will be receiving a medal during the awards ceremony.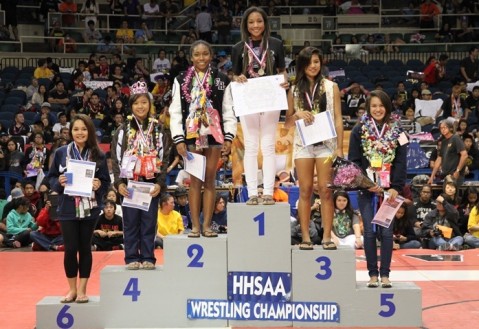 Photo by Barry Villamil | [email protected]
Xandria Ford sits atop the awards podium as the champion of the 113 Lbs. weight class. Ford defeated Farrington's Janae Lynn Oliver (D:2-1) for the title.
Congratulations Lady Chargers!

For complete tournament results log onto the HHSAA web site at: http://www.sportshigh.com/sports/wrestling/tournament/2013