Submitted by Donna Blanchard, Managing Director, Kumu Kahua Theatre:
The Young Playwrights Workshop at Kumu Kahua Theatre is supported by Hawaiian Electric Company.
WHAT: The Hawai'i Young Playwrights Slam
WHERE: Kumu Kahua Theatre
WHEN: Mar 26, 9 am – 5 pm
INFO:536-4441, kumukahua.org
A one-day event in adventurous writing, this experience is designed to both inspire and challenge young writers to take risks into greater understanding of the world of writing for the stage.
In this intensive writing workshop, participants will write, quickly and freely, from very specific tasks. No pre-writing is necessary. The tasks will inspire and challenge, encouraging the writer to trust the writing, enjoy the discoveries and embrace the process of revision.
Sessions will be jointly led by Daniel A. Kelin, II of Honolulu Theatre for Youth, who taught the Pacific Young Playwrights for 15 years at HTY; Robert St. John of Le Jardin Academy, whose students regularly develop their own plays and have received national accolades; and Harry Wong, Artistic Director of Kumu Kahua Theatre, who has nurtured many new, local playwrights through his work at Kumu Kahua.
Adult local actors will be on hand to offer support to the students, to lend their voices to the characters as the scripts develop, and to help all participants uncover their creative potential.
"This workshop, and hopefully others like it, will help insure that Kumu will continue to have plays in the future" says Kumu Kahua Theatre Artistic Director, Harry Wong.
"I'd argue that these students are embarking on the most difficult, and well…humbling kind of writing. Difficult because playwrights can't just say it all in the text, like a novelist. They need to use subtext to capture all the unsaid tensions and desires under what's written. Humbling because standing between he writer and their audience is a host of collaborators–actors, directors, designers–that bring their own interpretation to the writers text."
"We have a compliment of Kumu actors who will be available throughout the day to read the students scenes as they write them. My hope is that these students will get to feel the exhilaration that comes from hearing their words spoken by good actors."
This workshop is intended to answer the mission of Kumu Kahua Theatre: to provide theatrical opportunities for the expression of local community lifestyles, whether contemporary or historical;
to stage locally written plays set in Hawai`i or dealing with some aspect of the Hawaiian experience of residents;
to provide training and theatrical experiences for local playwrights, directors, performers and other theatrical artists;
and to develop an increasingly large audience sensitive to plays and theatre pieces dealing specifically and truthfully with local subject matter.
Students attending this workshop are from the following schools: Kapolei High School, Mid-Pacific Institute, Sacred Hearts Academy and Le Jardin Academy.
This workshop is funded in part by Hawaiian Electric Company and the Hawaiian Electric Industries Charitable Foundation.
Kumu Kahua Theatre is supported in part by the State Foundation on Culture and Arts through appropriations from the Legislature of the State of Hawaii and by the National Endowment for the Arts. Also paid for in part by the taxpayers of the City & County of Honolulu; the Mayor's Office of Culture and the Arts; The Annenberg Foundation, McInerny Foundation (Bank of Hawaii, Trustee); The Hawaiian Electric Company, The Star Advertiser and other Foundations, Businesses and Patrons.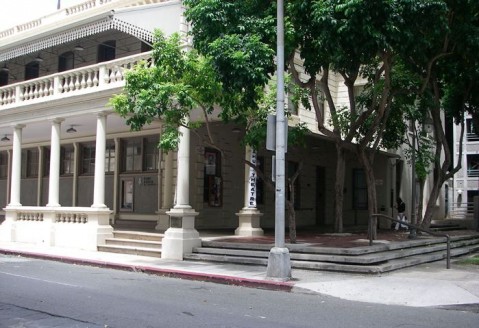 Photo Courtesy of Kumu Kahua Theatre