Honolulu Mayor Kirk Caldwell was the guest speaker at the Aiea / Pearl City Town Meeting held on Thursday, March 21, 2013 at the Pearl Ridge Elementary School Cafeteria in Aiea.
Elected officials from Aiea and Pearl City sponsored the event.
Mayor Caldwell brought along a group of his city cabinet members representing different city department branches of service to help answer any questions and concerns from area residents during the Q&A portion of the town meeting.
Mayor Caldwell wasted no time in introducing his cabinet members to the audience while expressing his thanks to them for their hard work and dedication in working together to improve city services and ability to get the job done.
"We work across different departments to get the job done," said Mayor Caldwell. "Every one of the cabinet members has agreed to this and I believe we have a really good cabinet. I like to describe them as poi pounders. They pound the poi, they feed the people. They do the work of the people, and they don't go home until it's done. And they don't want recognition, they just want to make sure that they're taking care of the city business and every one of the men and women here who are part of the team and those who are not here today do exactly that."
Mayor Caldwell talked about the top five priorities that his office and team are currently tackling. Many of the questions and concerns expressed from the residents to the Mayor directly addressed issues pertaining to the top 5 priorities presented below. Most of the questions and concerns dug deeply into those top 5 priorities outlined by the Mayor.
The rail project took center stage as usual. Rail verses the bus? Cost of rail? Residents stepped up to the microphone to voice their concerns and opinions or to give a thumbs up to the rail project moving forward.
From fixing our roads to what's brewing below with our aging sewer system? All major city issues that need to be addressed and are included on the Mayor's top 5 priority list.
A concern that was raised by a Pearl City resident that hit pretty close to home for me was the delay in completing renovations to the Pearl City Recreation Center Pool. What started out as a project to make the facility ADA compliant, has turned into a three year ordeal that has also included unexpected asbestos and lead removal. That's a long time for a facility that has served so many Pearl City residents from Keiki to Kapuna for decades to be out of service to the people. Mayor Caldwell told the audience that he would push to get the facility opened by this summer.
I have to say I believe him. He's going to make it happen. It sure would make thousands of Pearl City residents happy, starting with Summer Fun.

Photo by Barry Villamil | [email protected]
Honolulu Mayor Kirk Caldwell pictured presenting his Top 5 Priorities to
those in attendance at the Aiea / Pearl City Town Meeting held at the Pearl
Ridge Elementary School Cafeteria on Thursday, March 21, 2013.

Top 5 Priorities (as presented by Mayor Caldwell)


1. Road Repaving
"Forty-three percent of the roads on this island are sub-standard. It's because previous administrations, it's not as sexy a thing to go pave roads. I want to do the bigger issues. So they've been neglected and we're wrapping up the amount of roads that we're going to repave. I know we can do it because when I was at the city as the managing director two years ago and as acting mayor we did exactly that. We expedited a $188,000.000 worth of roads to be repaved. I wasn't there to see the result, but when I got back and I looked at how many roads were repaved in 2011, almost 300 miles, more than ever before. It was because the work I did when I was there to push it out, and know we can do it. So it's not just a dream, it's achievable if we focus and push, push, push on this issue and we're set up to do exactly that."
2. Rebuild Sewer Infrastructure
"Besides road repaving its making sure our sewer infrastructure is rebuilt. it's aging, we're hitting capacity. If we don't improve it, we're not going to be able to issue more building permits, and we're going into a major building boom in the Urban core of Honolulu. Much of that housing that we're going to be building is affordable work force housing. In order to have sewer hook ups you have to have the capacity to hook up to the sewers. And so we're pushing and expediting the sewer improvements that we are mandated to do by this consent decree, 4.7 billion dollars between now and 2035. I 'm saying why wait until 2035 to get it all done? Let's get more of it done now, so we have that capacity, so we can grow our development in the Urban core through this dense area between the mountain and the sea, from Waikiki out this way. So we can build housing for future generations."
3. Improving our Parks
"Improving our parks is another priority, third priority. We have significant money in our budget to make sure we do better maintenance of our parks. To make sure the restrooms are clean, the sprinklers are working, that you can go in and actually close the bathroom door on a stall and do the basic maintenance, again it'snot sexy, but needs to be done, and this costs money. We're doing exactly that."
4. Build Rail Better
"Build rail better is a fourth priority. Like that we mean being transparent about the problems. Open and discussing the risks and issues. Making sure that we disclose to the public what the problems are. Number two is that we watch the money like a hawk. if there's great fiscal responsibility, and that we make sure we are letting you know how the money is being spent and where it's being spent. And the final part is the visual impact as rail comes into the most dense part of town. Mitigating the fact that it is going to be above grade, so they can go fast, but make sure it doesn't have as much visual impact than it does right now. It is simple as planting more trees to hide cement structure. Its blending it with the surrounding buildings. Its making sure that it reflects the historic nature of the surrounding community. These are things we are working on and they actually accomplish."
5. Restoring Bus Routes
"Since I've been in the city two and half months, we're rolling out bus routes that have been in put into place in March. More will be coming out in May and further in August, and then we're going to make it even better, because we have an award winning bus system. Two-hundred thousand people ride the bus every day. So guys who are against rail say we'll never use rail because we're not a mass transit city. We are a mass transit city because two-hundred thousand of our residents on this island choose to ride the bus instead of taking the car, every single day, and it's an award winning bus system. So for me it's a combination of bus and rail, not bus verses rail that's going to even make mass transit better on this island, and help us go to and from work more expeditiously. Not sitting in cars, burning gas, and wasting our productive time so we can be at work working or be at home with loved ones."
"These are five priorities, and I have been pushing every one of them, and you can ask the team here, they've been working really hard to get it done."
Your thoughts? Log in and share your comments!
If you would like to watch the rebroadcast of the Aiea / Pearl City Town Hall Meeting, it will be shown on Olelo on the following dates and channels:
Sunday, March 31 at 7:30pm, channel 54
Monday, April 1 at 9:30am, channel 49
Tuesday, April 2 at 2:00pm, channel 49
Friday, April 5 at 12:00pm, channel 49
Photo by Barry Villamil | [email protected]
Mayor Caldwell's Cabinet Members look on as the Mayor fields questions
and concerns from Aiea and Pearl City residents who attended the town
hall meeting.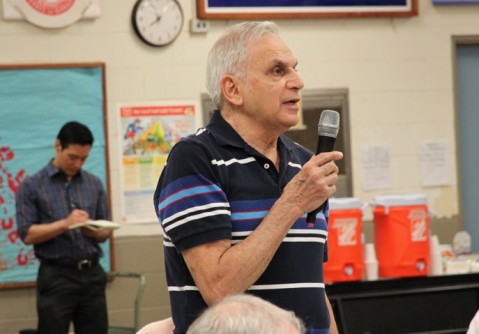 Photo by Barry Villamil | [email protected]
Aiea and Pearl City residents took advantage of the opportunity to have
their voices heard by the Mayor and his cabinet with regard to issues and
concerns that affect their communities.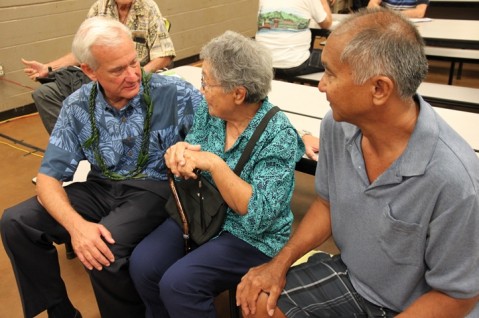 Photo by Barry Villamil | [email protected]
Mayor Caldwell enjoyed an opportunity to sit down and chat with the
Yamaguchi's from Pearl City before the start of the town hall meeting
inside the Pearl Ridge Elementary School cafeteria.Mrs.Yamaguchi's
late husband was a member of Hawaii's legendary 442nd Regimental
Combat Team, E Company.

Photo by Barry Villamil | [email protected]
Pearl City/Aiea elected officials who were present at the town hall meeting.
(From left to right) Aaron Ling Johanson (District 31 Moanalua, Red Hill,
Foster Village, Aiea, Fort Shafter, Moanalua Gardens, Aliamanu,
Lower Pearlridge), Representative K. Mark Takai (District 33, Aiea),
Representative Gregg Takayama (District 34, Pearl City, Waimalu,
Pacific Palisades), Senator David Ige (District 16, Pearl City, Waiau,
Pearlridge, Aiea), and Honolulu City Councilmember Breene
Harimoto (District 8, Pearl City, Pearl City Peninsula, Waimalu,
Crestview, Waipio Gentry, portions of Waipahu).