The Pearl City Lady Chargers defeated the Kapolei Lady Hurricanes 70-30 to capture the 2013 Oahu Interscholastic Association Girls Judo Team Championship. The win makes it four championship titles in a row for the Lady Chargers.

Submitted by Taylor Castro, Pearl City Lady Chargers:
Ariana Fernandez at 154 pound weight started us off by winning an IPPON.
Myself, Taylor Castro at 115 pound weight scored an IPPON when it was 30-30. I knew I had to pick up the momentum for the team making the score 30-40.
Next, Sherese Ader at 122 pound weight class pinned Ilisha Badua to make it a 20 point lead.
Our freshman, NeTanya Kang also scored an IPPON. The momentum was building and no one could stop us.
Ending the match, at 139 Trudi Eltagonde scored the last IPPON of the night. Finalizing the score to be 30-70.
This win was very important to us & we really trained hard for this. Early in the season we did lose to Kapolei… At that time, coach Rob couldn't be there which made us feel so lost. Having him with us is like our security blanket, we feel complete. He always gives us a motivational speech & is the heart of our team. He's such an amazing coach, he knows how to fire us up & prepare us for war. And we come through in the end. Nothing feels better than winning and fighting with my team.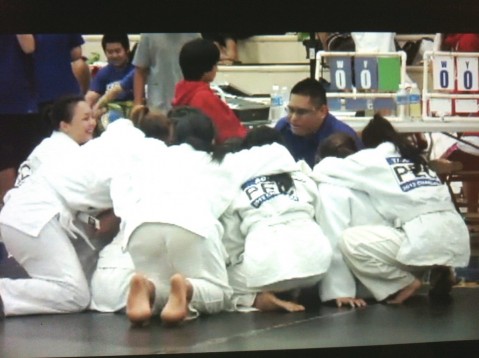 Photos courtesy of Taylor Casro
Pearl City Lady Chargers Head Coach Robin Puahala pictured with his girls
on Friday, April 12, 2013 during the OIA Girls Judo Team Championships held
at the Waipahu High School gymnasium.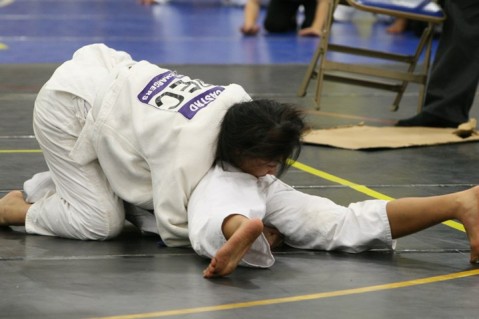 Photo courtesy of Mr. Steven Ching
Taylor Castro at the 115 pound weight class scored an IPPON to win her match.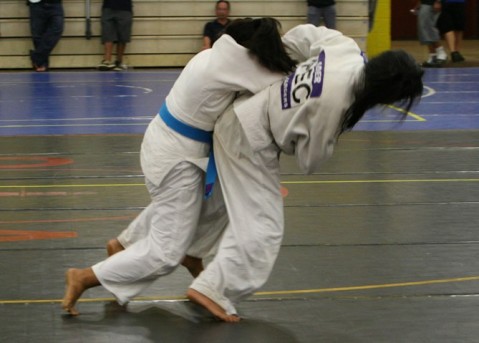 Photo courtesy of Mr. Steven Ching
Sherese Ader at the 122 pound weight class pinned Kapolei's Ilisha Badua
to give the Lady Chargers a 20 point lead.
Congratulations Lady Chargers!