Moanalua exploded for seven runs in the bottom of the sixth inning against Pearl City to beat the Lady Chargers 12-2 in the OIA Red Division Championship Tournament consolation semifinals on Friday, April 19, 2013 at Moanalua High School.
The seven run Na Menehune sixth inning ended the game due to the10 run mercy rule.
Cyanne Fernandez earned the win for the Lady Na Menehune in relief of Leisha Yamauchi.
Kristin Frost took the loss for the Lady Chargers. Cydny Rivera pitched in relief of Frost in the fifth and sixth innings.
Leading Hitters: Moanalua – Leisha Yamauchi 2-3, 2B, 3B, 2 RBI; Chrissi Omalza 2-4, 2 RBI; Cyanne Fernandez Homerun, 3 RBI; Sparki Ramiscal 2-3, RBI.
With the win, OIA East Champion Moanalua (13-1) advances in the tournament and will face OIA West Champion Mililani (13-1) for fifth place at Mililani High School on Saturday, April 20 at 3:30pm.
Mililani and Moanalua have both secured berths in the upcoming state tournament. Pearl City did not qualify. The top six finishers in the OIA Red Championship Tournament will earn a berth into the HHSAA State Softball Championship Tournament to be played on May 7-10 at the University of Hawaii's Rainbow Wahine Softball Stadium.
Campbell (9-5) will play Kapolei (9-6) for the OIA Red Championship Title on Saturday, April 20 live on Oceanic Cable's OC 16 from Central Oahu Regional Park in Waipio at 7:00pm.
Campbell defeated Waipahu 6-3 in the semifinals on Friday, April 19 to advance to the championship.
Kapolei defeated Leilehua 6-3 in the other semifinal to also advance.
@ Moanalua High School

Pearl City (5-9) 0 0 0 1 1 0 X 2 2 3
Moanalua (13-1) 2 2 0 0 1 7 X 12 12 3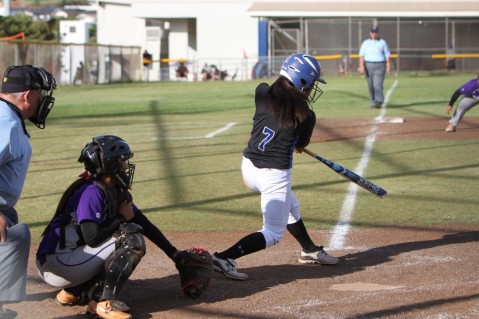 Photo by Barry Villamil | [email protected]
Sparki Ramiscal pictured at the plate for Moanalua in the bottom of the
fifth inning. Ramiscal went 2-3, with an RBI and a run scored.