Submitted by Sharon Higa, Hawaiian Electric Company
Saturday, April 20, 2013
Karly Tangonan, Ruby Ranoa and Layla Fidel were today announced the winners of Hawaiian Electric Company's 2013 Sustainable Gift Contest for their hand-made gifts using recycled, natural, compostable or locally-sourced materials. The contest, held as part of the company's Grow Hawaiian Festival at Bishop Museum, challenged public school students in grades K-12 to design earth-friendly graduation gifts as alternatives to giving shiny, metallic balloons which can tangle in electric lines and result in power outages.
Karly Tangonan, a fourth grade student at MaeMae Elementary School won in the Grade K-5 category with her recycled beach bag using an old laundry detergent container, yarn and old shorts. In the Grade 6-8 category, seventh grader Ruby Ranoa of Kailua Intermediate School designed her winning rosette soda can earrings using recycled soda cans and said, "my gift is sustainable because it will not be caught in power lines, it can be used and not thrown away like a balloon, and will not end up our oceans and hurt the sea animals." The winner in the Grade 9-12 category is Layla Fidel, a senior at Pearl City High School. Fidel's "Bloom" symbolizes the blooming of a high school graduate into an adult who is going into the real world, and is made of re-used washed plastic spoons to create the petals and a re-used necklace chain. "Sustainable gifts are not only cost effective, but also safer for the environment," said Fidel.
This year, about 175 public schools were invited to participate in the Sustainable Gift Contest and 27 finalists in three grade categories were selected to have their designs on display at the Grow Hawaiian Festival where the public cast their votes for the top sustainable designs. Judging was based on originality, creativity and gift appeal. Hawaiian Electric awarded each winner $100 for their classroom, an Apple® iPad® mini for their personal use and an eco-friendly "goodie" bag. All finalists will have a koa tree seedling planted in their honor to support the Hawaiian Legacy Hardwoods sustainable forestry project on the slopes of Mauna Kea.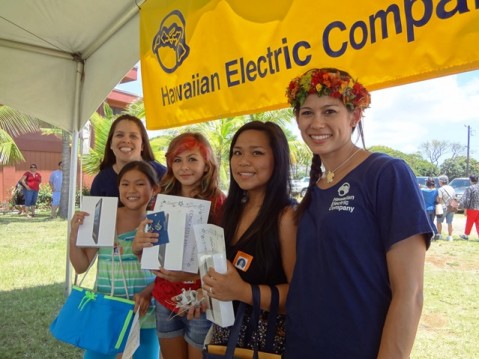 Photo credit: Hawaiian Electric Company
(Standing left to right): Cybil Rawlins of Hawaiian Electric Company; Karly
Tangonan, age 10 years, of Honolulu with her recycled beach bag; Ruby
Ranoa, age 12 years, of Kailua with her rosette soda can earrings; Layla Fidel,
age 17 years, of Pearl City with her Bloom necklace; and Briana Ackerman of
Hawaiian Electric Company. The three students are the winners of Hawaiian
Electric Company's 2013 Sustainable Gift Contest.