The Pearl City Chargers varsity baseball team will end their 2013 post season on Saturday against the Iolani Red Raiders in the consolation finals of the Wally Yonamine State Baseball Division I Championship Tournament played at Iron Maehara Stadium in Wailuku, Maui.
Pearl City opened the state tourney on Wednesday, May 8 with a close 4-3 first round loss to the Maui Sabers before a capacity crowd. The Chargers came back on Friday to defeat Leilehua 2-2 (Pearl City won the game on a coin toss after reaching the 2 hour game time limit). Sean Milan earned the win for the Chargers. Brandon Smithe took the loss for the Mules.
The Chargers (12-6) are scheduled to play Interscholastic League of Honolulu runner-up Iolani (9-10) Saturday morning with first pitch scheduled for 9:00am at Iron Maehara Stadium.
Interscholastic League of Honolulu Champion Mid Pacific (16-3) and Oahu Interscholastic Association runner-up Mililani (12-7) will meet Saturday evening at 6:00pm for the championship title.
Mid Pacific defeated Oahu Interscholastic Association Champion Campbell 2-1 in the championship semifinals on Friday to reach the title game. Mililani beat Big Island Interscholastic Federation Champion Hilo 8-6 in the other semifinal to advance to the championship.

Saturday, May 11 @ Iron Maehara Stadium:
Championship – #2 Mid Pacific vs. Mililani 6:00pm
3rd Place – #4 Hilo vs. #3 Campbell 3:00pm
5th Place – #1 Baldwin vs. Maui 12:00pm
Consolation – Pearl City vs. Iolani 9:00am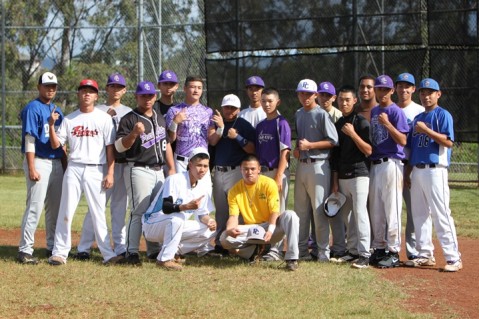 MyPearlCity.com File Photo | [email protected]
Go Chargers!