NFL veteran Ikaika Alama-Francis returned home to Pearl City on Friday, May 10 to share his life experiences with members of the Pearl City Chargers football program as a guest speaker at the school's Edwin "Bino" Neves Stadium.
After being asked by new Pearl City Chargers Head Football Coach Robin Kami to speak to the players, Ikaika thanked the Lord for the opportunity to do so and was excited to help out his former coach who he played QB for on the Pearl City Chargers Pop Warner State Football Championship team back in the early 1990's.
Ikaika also honored his father, Joe Francis who recently passed away after a long illness. Joe Francis retired as a Pearl City High School P.E. Teacher and was also the school's first varsity football coach and girl's varsity basketball coach. He was also a standout football player at Kamehameha High School – Kapalama Campus as well as an Oregon State Hall of Fame Football Inductee, and a member of the Green Bay Packers in the late 50's and early 60's. Coach Kami played for Coach Francis in the 80's at Pearl City High School.
"It was a blessing when coach came out here and asked me to talk,' said Ikaika. "This is where my dad worked and coached and was a part of the Pearl City community for so many years. Coach Rob has also impacted my life in who I am today. Anything I can do to help the kids because I grew up here. I know what it's like. I know how these kids think and just to give them a boost of energy and just to remind them that anything is possible. They can do whatever they set their minds to because all they have to do is stay on the path and work hard."
Ikaika opened up the floor to the players during a Q&A session that gave them opportunity to learn more about Ikaika and the road he took to achieve his success.
"I saw a lot of passion," Ikaika said. "I saw their spirits lift up. I really did. With them getting involved in the questions, they were really interested in how everything happened. If I could just give them a little knowledge about what roads to take, what to do, and how to do it. It is truly about helping each other out and getting support from everybody. When you have good coaches and good people around you, good things will happen. I'm really looking forward to all these kids doing great."
Coach Kami has recently taken over the helm of the Chargers football program after serving as the junior varsity head coach and as an assistant coach to former varsity head coach David Hallums who stepped down after the 2012 season.
Coach Kami was appreciative of the positive impact Ikaika made on his players in just about an hour after speaking about his experiences and encouraging them to excel. He commented on Joe Francis being his coach and how much he learned from him. Most of all, how much Ikaika has matured and grown into a man from his Pearl City Pop Warner playing days.
"We feel very positive about having Ikaika here today," said Coach Kami. "Ikaika spoke about a lot of good things that he went through. They were able to gain a lot from not only listening to me but from an NFL guy. He shared his experiences from high school, to college, and to the NFL. Joe Francis was the first coach here and he coached me and he taught me the kinds of things that I'm trying to teach the kids now. Bringing Ikaika back here, because I coached Ikaika in Pop Warner, and seeing him grow up as a man, really means a lot to us for him to come back and talk to the kids. Ikaika's presence today helped instill in the kids a sense of humbleness, hard work, trust, accountability and things that you need to do off the field affects what you do on the field and hopefully that carries on in a positive way to the kids."
Ikaika's inspiration comes from his efforts on the playing field and in life as defined by one word, Heart.
It's all about the distance one must travel to achieve their goals. To reach the finish line of one chapter in your life while making a connection to next. It's up to every individual to decide how they will move forward and face the road ahead.
Mahalo Ikaika!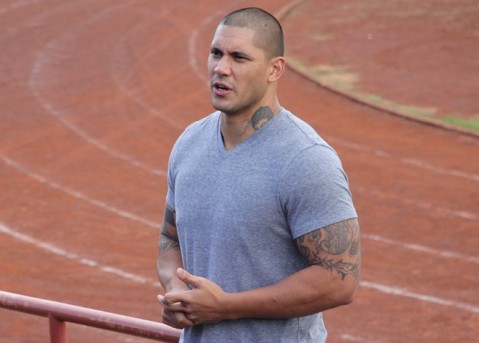 Photo by Barry Villamil | barry@mypearlcity.com
Photo by Barry Villamil | barry@mypearlcity.com
Ikaika poses with Pearl City Chargers Head Coach Robin Kami on the turf at Pearl City High School's
Edwin "Bino" Neves Stadium. Ikaika played QB for Coach Kami on the Pearl City Chargers Pop
Warner State Championship Football Team.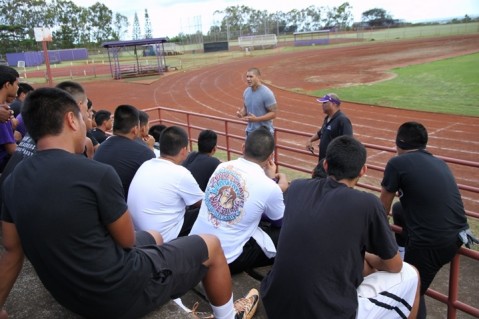 Photo by Barry Villamil | barry@mypearlcity.com
Members of the Pearl City Chargers Football Program listen in as Ikaika shares his experiences from

playing Pop Warner Football as a Pearl City Charger, to playing defensive end for the University of Hawaii

Warriors, and in the NFL with the Detroit Lions and Miami Dolphins.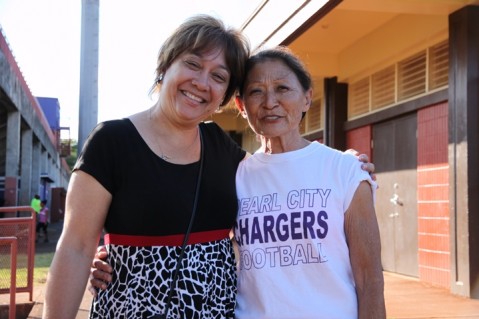 Photo by Barry Villamil | barry@mypearlcity.com
Ikaika's mom, Rolenda Alama (PCHS '75) poses with her former teacher Mrs. Kay Bicoy in front of the

Chargers locker room facilities.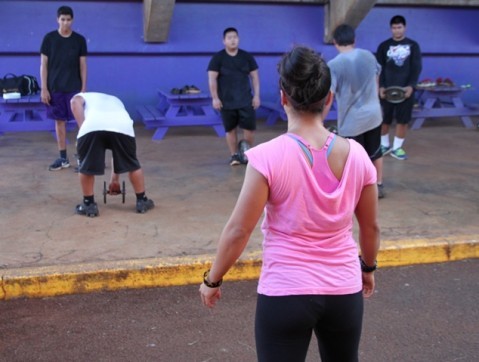 Photo by Barry Villamil | barry@mypearlcity.com
The Chargers got right back to work with their off-season weight training and conditioning program
following Ikaika's visit with the players.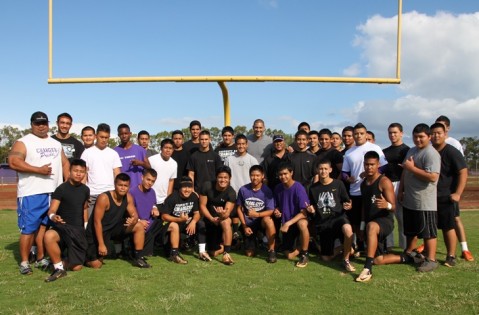 Photo by Barry Villamil | barry@mypearlcity.com
Members and coaches from the 2013 Pearl City Chargers Football program take a photo with Ikaika under

the goal post at Edwin "Bino" Neves Stadium.