Pearl City won the 2013 Inaugural Hawaii Little League Intermediate 50-70 District 7 & Hawaii Championships for 13 year olds on Saturday, June 22, with a doubleheader sweep of MKH (Makakilo, Kapolei, Honokai Hale) 6-0, 10-5 at Pacheco Park in Pearl City.
The two teams played in best of three format for the championship title.
Pearl City's Sam Prentice earned the win in game one with a complete seven inning performance. Prentice also came through at the plate with a homerun in Pearl City's 6-0 win.
Kamea Wong pitched a tough game for MKH in the game one loss to Pearl City.
Chris Onomura sparked Pearl City's 10-5 championship win in game two with a third inning grand slam that put Pearl City up 8-1 over MKH.
Marcus Boyles pitched a great game to earn the championship win for Pearl City. Todd "TJ" Takahama worked 5,6,7 innings in relief for Pearl City.
Noja Ramiscal and Bradyn Yoshida worked the mound for MKH in the 10-5 championship game loss to Pearl City.
Congratulations to MKH Head Coach Jammie Wong and his ball club for well played doubleheader championship series!
Mahalo to Cathrine Prentice for providing the awesome cover photo of the Pearl City team holding their championship banners.
Congratulations to the 2013 Hawaii Little League 50-70 Intermediate Champions!
PEARL CITY
Marcus Boyles – Mason Cordero – Kevin Hirokane – Davin Kapuras – Ethan Kwon – Brannon Liu – Jzayven Moreno – Kendric Nakamura – Kulia Neal – Christian Onomura – Brody "Pono" Padilla – Sam Prentice – Alihikaua Rodrigues – Todd "TJ" Takahama
Keith Nakamura, Manager
Photo by Barry Villamil | [email protected]
Chris Onomura blasts a grand slam to left field in the top of the third inning that put Pearl City.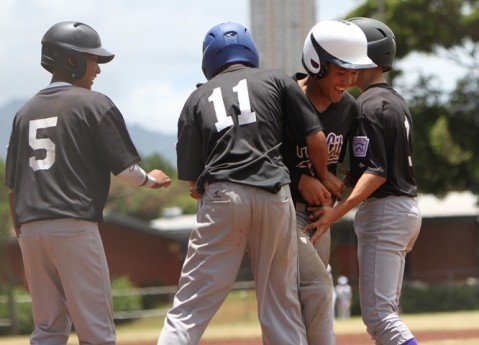 Photo by Barry Villamil | [email protected]
Chris Onomura is congratulated by teammates #5 Brannon Liu, #11 Jzayven Moreno and #1 Sam Prentice

after driving in the trio with his top of the third inning grand slam in game 2.