The next round of deck repair work on the H-1 Freeway viaduct in Pearl City will close three lanes in the westbound direction between the H-1/H-2 Merge and the Pearlridge/Waimalu Off-Ramp (Exit 10) beginning on Monday, July 22 through Friday, July 26 from 7:30pm to 4:30am.
Please be prepared for traffic delays in the area.
For more information, log on to the project website at www.pmcontraflow.com. You can also call the project hotline at (808) 945-1144.
Additional Lane Closures in Pearl City:

Utility installation work on Kamehameha Highway in Pearl City will force lane closures in both directions between Waihona Street and Kaonohi Street beginning Sunday, July 21 through Thursday, July 25, from 7:30 p.m. to 5:30 a.m.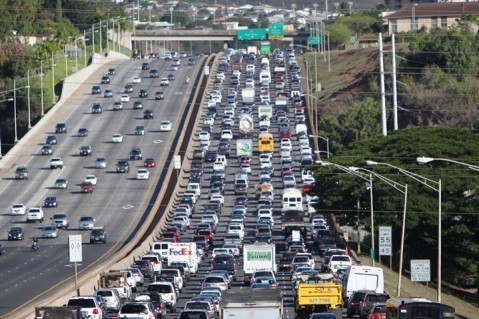 MyPearlCity.com File Photo | [email protected]