Pearl City's impressive run in the 2013 Intermediate Little League Western Division Championship Tournament ended on Thursday with a close 6-5 loss to Nogales Little League from Arizona in the championship tournament title game.
"All good things came to an end today. We lost to the Arizona team. Final score 6-5. It was such a good game! We had a good run and the team had many good learning experiences."

…..Liane Nakamura, Pearl City Little League President
Congratulations to the team for representing Pearl City and Hawaii with PRIDE!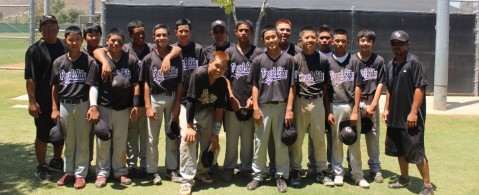 Photo courtesy of Catherine Prentice
Front row: Ethan Kwon, TJ Takahama, Sam Prentice, Davin Kapuras,Kendric Nakamura, Pono Padilla, Brannon Liu, Preston Onomura.
Second row: Keith Nakamura, Kevin Hirokane, Mason Cordero, Kulia Neal, Tom Sato, Jzayven Moreno, Alihi Rodrigues, Christian Onomura, Marcus Boyles.