The Pearl City Lions led the charge in their latest community service project efforts on Saturday, July 27 that tackled the graffiti and overgrown landscaping at the corner of North King Street and Houghtailing Street in Kalihi fronting Farrington High School.
Community volunteers from the Mana Loa-Nimitz Lions Club, Kalakaua Lions Club, along with volunteers from the Aiea community and staff from Farrington High School, all joined the Pearl City Lions on a sunny Saturday morning to lend a hand in making the day a success for the school and the community.
"We are just so grateful for the Lions clubs to come out here and give their time and effort on a weekend, but more important for our community and the school," said Farrington High School Vice-Principal Ronald Oyama who is in charge of school facilities. "As you can see, we have a lot of graffiti and just things that we can't get to during the normal school day. We really appreciate the help because this has been an eyesore and even the Ford owner across the street wanted to see if he could do something to paint this area. When you guys called and said you wanted to do this, I just couldn't believe it. About two or three months ago we were thinking about partnering up with the Ford owner and getting it painted. This is unreal. It's really beautiful. On behalf of Principal Al Carganilla, I just want to say thank you so much for all your help!"
Mahalo, once again, to the leadership of the Pearl City Lions Club and the dedication from Hawaii District 50 Lions Clubs who join together in support of one another for projects that beautify and brighten the community spirit of our neighbors.
Also, mahalo to Honolulu Ford for providing breakfast pastries and refreshments. Your generosity was truly appreciated on Saturday by a hungry pack of Lions!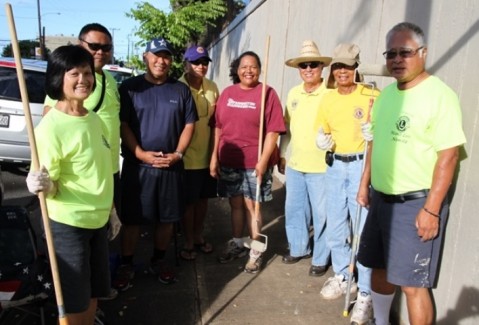 Photo by Barry Villamil | [email protected]
Farrington High School Vice-Principal Ronald Oyama (third from left) is pictured on Houghtailing Street
with community volunteers representing the Pearl City Lions, Mana Loa-Nimitz Lions, Kalakaua Lions
and Farrington High School staff during the Pearl City Lions community service workday project on
Saturday, July 27, 2013.