Members from the Pearl City Ballroom Dance Club wrapped up performing in the Arcadia Follies at the Arcadia Retirement Residence on Saturday, July 27 and now head off to the Ala Wai Palladium Gala scheduled for Friday, August 2 and Saturday, August 3.
The dancers performed to "This is a Great Country" at the annual Arcadia Follies that honored three gentlemen living at Arcadia who were members of the 442 Infantry.
"The Arcadia Follies were just gorgeous, just beautiful," said Shirley Ota, President of the Hawaii Ballroom Dance Association (HBDA). "It just gave me chicken skin when I saw the program. It brought back all the memories of the veterans, but because the theme is "This is a Great Country", it went from one end of the country to the other end, and of course from New York, all the way to Hawaii."
The Hawaii Ballroom Dancers will join the Arcadia performers in a performance of a lifetime at the Ala Wai Palladium. Veteran director and choreographer, Jack Cione will once again present his dancers at this weekend's Palladium Gala.
"Jack Cione is the main Director," Ota said. "He has done years and years and years of work and he's the one who put all of this together. The costumes are just fabulous. We will have five different groups of five ballroom dancers. We had an anniversary on June 3 and Jack picked the five groups. Our costumes are done by Jack."
Shirley Ota will be joined by her husband Herb Ota, who is the current HBDA Secretary and Webmaster for the Pearl City Ballroom Chapter, and other Pearl City Ballroom Dancers who were selected to perform in the Palladium Gala.
For tickets to the Palladium Gala please call Shirley Ota at 456-2129. Ticket prices are $20 and $25.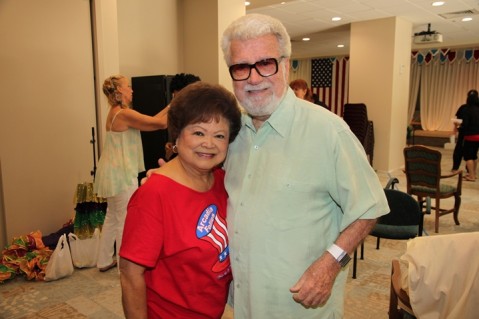 Photo by Barry Villamil | barry@mypearlcity.com
Shirley Ota, President of the Hawaii Ballroom Dance Association is pictured with Jack Cione,
Director/Choreographer on Sunday, July 28, 2013 during rehearsals at the Arcadia Retirement

Residence.