With only two days of live contact under their belts, the Pearl City Chargers varsity and junior varsity football squads traveled to Mililani High School on Thursday to take on the Trojans in a controlled scrimmage format. It's the first of two controlled scrimmages for Pearl City this week. The Chargers headed out to Moanalua High School this afternoon to face the Menehune's who will be their second opponent in a row from the OIA Red Division.
First year Pearl City Chargers varsity head coach Robin Kami is getting a good look at both his offense and defense with every position up for grabs at this point in the summer training camp.
"We lost a lot of players on both offense and defense from last year," said Coach Kami. "On offense and defense we're going to play everybody today. We're going to see what everyone can do. Right now, nobody has a starting position. We have a new staff and everybody is going to be given a fair chance at each position in this game."
A big question on the offensive side of the ball is who will emerge from competition at QB from both Travis Joe (Senior) and Jordan Taamu (Junior).
"Travis Joe and Jordan Taamu is going to fight it out today to see who is going to take over the starting Quarterback position after this week." Actually every position is up in the air right now."
The Chargers JV program is in a similar situation with everyone learning the new offense and defense and everyone fighting for a starting position.
"Our JV is getting better with each day. They're improving. We practice together so we try and help out each other with JV and Varsity. It's going to take time for the JV to pick up the new offense and defense."
Head Coach Kami is proud of his new coaching staff that he has put together at both the JV and Varsity levels.
"I'm so proud and happy with my new coaching staff. They're real committed and are there every day and doing the best that they can. We tried to get the alumni first, if we couldn't, we just wanted coaches who were committed and can come here every day and help these kids out."
Along with his new head coach position and elevated responsibilities, Coach Kami wanted to carry on his philosophy of "getting it done in classroom first" that started while in his role as the Chargers junior varsity head coach last year. As the skipper of the Chargers football program, he has instilled in his coaches and players the importance of reaching the Double A standard.
"Right now we're trying for the Double A's. We're trying to get better at Academics and Attitude. We see the attitude changes big time right now. I am so grateful for the changes in attitude at this time. Hopefully we can carry that over to the school academics."
Coach Kami has a great start at achieving his "Double A" goals for the program and student athletes. He has recently met with both the Pearl City High School teaching staff and his player's parents to introduce his game plan on and off the playing field.
MyPearlCity.com would like to wish Coach Kami and the Chargers football program the best of luck in reaching their goals for the upcoming 2013 football season and beyond.
The Chargers will travel to OIA Red Division powerhouse Kapolei to take on the Hurricanes on Friday, August 9 in their only pre-season game. They open the OIA White Division regular season with a bye and will play their first game on Friday, August 23 against Kalani at Kaiser High School Field.
Go Chargers!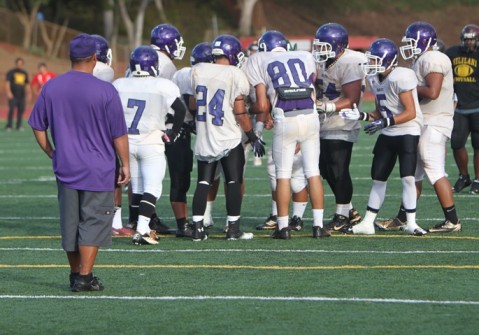 Photo by Barry Villamil | barry@mypearlcity.com
Chargers first year Head Coach Robin Kami looks over his offense on Thursday, August 1, 2013

during a controlled scrimmage against the Trojans at Mililani High School's John Kauinana Stadium.