Submitted by Kelsey Higa who is on the road with the team:

We just wanted to let you know that the Pearl City Senior Little League team has won their game against Northern California 4-3 in the Western Regional Tournament.
Starter Brandon Henderson threw an amazing 5 1/3 innings while only allowing 1 run to cross the plate, mean while he struck out 6. While Pearl City's offensive was able to score 4 runs over 4 hits.
Sanyo Lo being the high point man driving in 2 runs going for 1/3. Dane Kaneshiro closed the door for Pearl City pitching 1 2/3 innings with no earned runs.
Pearl City plays Montana tomorrow at 1130 am (830 am). Pearl city's record is now 4-1.
Go Pearl City!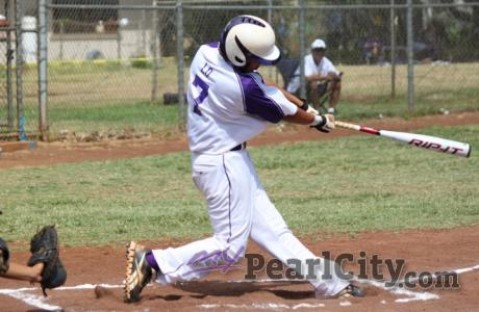 Pearl City slugger Sanyo Lo. MyPearlCity.com File Photo | barry@mypearlcity.com