Submitted by Kelsey Higa who is on the road with the team:
The Pearl City Senior All Star team has won their game today against Montana 11-1 over five innings due to the mercy rule. Rally Oshiro picked up the win for Pearl City, pitching three innings of shutout baseball. While Pearl City's offense crushed the ball, scoring 11 runs over 11 hits.
Colby Hirano went 3 for 4 with 3 singles.
Matt Tsutomi also went 3 for 4 with 3 singles.
Sanyo Lo went 1 for 1 with 2 rbis.
Tyler Kushima went 3 for 3 with a Home run scoring 4 runs.
Shaye Higa also went 1 for 1 with a single.
Pearl City will play Arizona tomorrow at 1130 am (830 am Hawaii time). Their record now stands at 5-1.
Go Pearl City!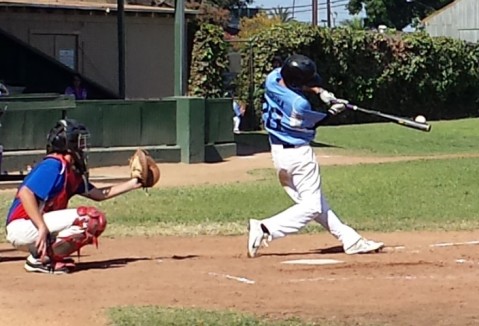 Photo provided by Kelsey Higa
Tyler Kushima strokes a base hit against Montana. Kushima went 3-3 with a homerun.