Pearl City was well represented this past week at the 38th Junior PGA Championships held at Trump National Golf Club in Washington, D.C. from Tuesday, July 30 through Friday, August 2. 15 year old Mariel Galdiano and 17 year old Brittany Fan golfed well in four rounds of championship competition on the 6,130 yard, Girls' Division course.
Galdiano shot a final round of 73 to finish tied for 10th place (+3) at 287. Fan finished her final round at 76 for a 13th place finish (+4) at 288.
16 year old Amy Lee from Brea, California captured the Junior PGA Championship girls title with a final round of 69 to finish 5 under at 279 which was one stroke better than runner-up, 16 year old Abbey Carlson of Lake Mary, Florida who shot a final round of 71 to finish the championship tournament 4 under par at 280.
Four Round Scores and Totals:

Mariel Galdiano 72, 69, 73, 73 – 287

Brittany Fan 71, 72, 69, 76 – 288

Congratulations!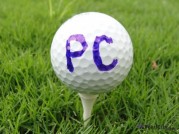 For complete scores and coverage from the 38th Junior PGA Championships log on to:
http://www.pga.com/pga-america/pga-feature/2013-junior-pga-championship