Submitted by Kelsey Higa:

Pearl City Seniors are headed to the finals, with a epic come from behind victory over Arizona 11-6. Starter Chevy Sumile and the Pearl City defense was off to a shaky start in the first two innings allowing 1 earned and 4 unearned runs to cross the plate. Chevy Sumile was taken out after allowing two runner to get on base. Tyler Kushima came in for relief for Chevy allowing 1 run to score over 1 inning of work. Followed by Dane Kaneshiro who allowed no runs in the bottom of the 3rd.
But, Pearl City was not phased, scoring 7 runs in the top of the 3rd, then another 4 more runs over the next two innings. Chevy Sumile was then put back in to pitch and was lights out for the next 4 innings, earning the Win for todays game. Pearl City's offense was potent scoring 11 runs off of 15 hits. Matt Tsutomi was outstanding at the plate today going 5 for 5 with a home run and 3 rib's. Colby Hirano went 2 for 5. Kawai Takemura went 2 for 4 with one double and 4 rbi's. Rally Oshiro and Brandon Henderson both went 1 for 2 with 1 rbi each. Dane Kaneshiro also went 1 for 2. Chevy Sumile went 2 for 3 to go along with his excelent pitching.
Pearl City will be playing for the Western Regional Championships tomorrow against Southern California at 6 pm (3 pm Hawaii time). If they win the championship they will be representing the Western Region in the Little League World Series!
Submitted by Wallyne Nakamura:

Wow, what a game it was today! The Pearl City Senior All Stars played a stupendous game today against Nogales, Arizona. Losing 5-0 in the first two innings, things did not look good for the Pearl City team. BUT, Pearl City made a BIG comeback in the top of the 3rd inning by scoring 7 runs! Brandon Henderson started off the inning by getting hit by a pitch and Chevy Sumile got a base hit. Next, Colby Hirano hit a bunt single. Kawai Takemura came up to bat and hit a game changing clutch double to left center that allowed 3 runs to score! Next, Matt Tsutomi got a hit that enabled Kawai to score. The bats kept on producing hits from Sanyo Lo, Chevy Sumile, and Rally Oshiro, Dane Kaneshiro and Brandon Henderson who each drove in a run. The top of the 3rd inning ended with a fly ball to center field by Colby Hirano. Score 7-5 Pearl City.
Chevy Sumile pitched the first 1 inning and allowed the 1st batter of the second inning to get a hit. He was relieved by Tyler Kushima who struck out the 3rd and 4th batter to end the 2nd inning. In the 3rd inning, TK gave up a run and a hit and was relieved by Dane Kaneshiro. Dane gave up 2 hits, but struck out the next 2 batters to end the inning. Score 7-6 Pearl City.
Matt Tsutomi led Pearl City's offense going an awesome 5 for 5 with a solo homerun to left field in the top of the 4th inning. He ended the game with 2 RBIs. Score 8-6 Pearl City.
In the 4th inning, Chevy Sumile returned to pitch and was able to shut down the Arizona batters all the way to the bottom of the 7th inning.
In the 5th inning, Colby Hirano, Kawai Takemura, and Matt Tsutomi each drove in a run to increase Pearl City's lead to 11-6. Kawai was 2 for 4 with a double and 4 RBIs. Colby was 2 for 5 with a double and an RBI. Chevy was 2 for 4.
The Pearl City boys played as a team and did not allow the early 5 run deficit defeat them. They played very well and are now in the Championship game against Southern California tomorrow night at 6:00 pm Pacific time. Tomorrow night's game will determine who will represent the West at the Senior World Series in Bangor Maine on August 11.
If you go on the website www.inlanddailybulletin.com, which is the local newspaper, there are write ups about the games played in this tournament.
GO PEARL CITY SENIOR ALL STARS!!!
Pearl City Senior All Stars:
Nicholas Au, Brent Clymer, Brandon Henderson, Shaye Higa, Colby Hirano, Dane Kaneshiro, Tyler Kushima, Sanyo Lo, Trestan Nakamura, Rally Oshiro, Chevy Sumile, Kawai Takemura, Tyler Tashiro, Ryne Tokunaga, Matt Tsutomi
Coaches: Alex Takemura, Mark Nakamura, & Casey Higa
Mahalo to Kelsey Higa and Wallyne Nakamura (proud moms) who are traveling with the team and are filing daily updates at the Western Regional Championship Tournament played in Ontario, California.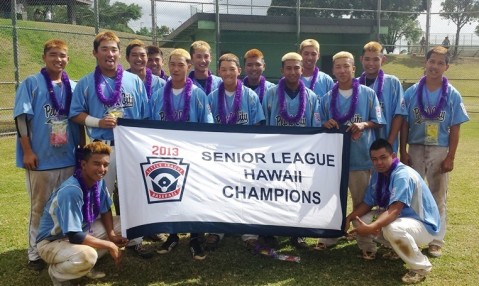 Photo courtesy of Kelsey Higa
Go Pearl City!