Submitted by Kelsey Higa:

You wanted a championship game? You got it! Home team Pearl City and visiting team Southern California went the distance, going into extra innings in an outstanding game of baseball. Both starting pitchers threw lights out baseball for three straight innings.
Pearl City's starter, Brandon Henderson, threw great tonight only allowing one earned run over 5 and a 1/3 innings pitched. Pearl City's defense was shaky giving up two errors that allowed 2 unearned runs to score in the 4th inning. But, Pearl City was resilient, a rally in the 4th inning kept Pearl City alive scoring three runs off of three singles.
Southern California had two big chances to score in the 7th and 8th inning. In the top of the 7th with Dane Kaneshiro on the mound for Pearl City a line shot was hit to Dane he caught the ball and then threw the runner out at 1st base for the third out.
The next at bat for SoCal with runners at third and second couldnt drive in a run, a fly ball was caught in right field by Tyler Kushima, the runner tagged up going for home was hung up to dry by and excellent throw by Tyler as was as the first basemen Matt Tsutomi.
In the bottom of the 8th, Pearl City was quickly in the hole with two outs, but they never gave up. The next three batters (Chevy Sumile, Dane Kaneshiro, and Nicolas Au) all drew walks loading the bases for Pearl City. Southern California then took out their pitcher hoping their third baseman could close the door, but he couldn't. He walked Colby Hirano for the walk off walk ending the game.
Colby Hirano went 1 for 3 with 1 rbi. Sanyo Lo went 1 for 4. Chevy Sumile went 1 for 3 with 1 rbi. Dane Kaneshiro went 1 for 1. Nicolas Au went 1 for 3 scoring 2 runs. Dane Kaneshiro picked up the win going 2 and 2/3 innings with no earned runs.
Pearl City 4 Southern California 3

Pearl City will be representing Hawaii and the entire West Region in the Little League World Series.
GO PEARL CITY!!!
Please log on to link below for excellent coverage of Pearl City's West Region Championship win provided by sports writer Jason Nowa from the Daily Bulletin.com. Photos by Jennifer Cappuccio Maher/Staff Photographer.
http://www.dailybulletin.com/ci_23810868/little-league-seniors-manhattan-beach-team-suffers-heartbreaking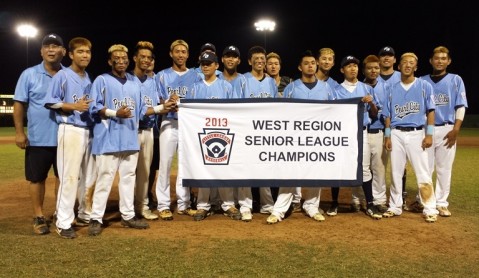 Photo courtesy of Kelsey Higa
2013 WEST REGION SENIOR LEAGUE CHAMPIONS

PEARL CITY

Nicholas Au – Brent Clymer – Brandon Henderson – Shaye Higa – Colby Hirano – Dane Kaneshiro – Tyler Kushima – Sanyo Lo – Trestan Nakamura – Rally Oshiro – Chevy Sumile – Kawaiola Takemura – Tyler Tashiro – Ryne Tokunaga – Matthew Tsutomi
Alex Takemura, Manager
Next Stop: World Series 8/11 – 8/17/13 @ Bangor, ME
Go Pearl City!