A good percentage of pre-season football ball games that match the OIA Red Division against the OIA White Division end with same conclusion, Red beats White pretty convincingly. With the percentages riding on Kapolei's side last night, at home, the Hurricanes beat the Pearl City Chargers 42-7 with a display of speed and quickness.
The final score might have been a bit closer if it wasn't for several Charger players sitting out the game due to academic suspensions that affected a significant number of starting players who watched from the sideline. Kapolei was in the same situation with players sitting out because for the same reason, but that didn't have an affect on the Hurricane's performance and success against the Chargers.
Kapolei senior running back Tristen Pebria got the Hurricanes on the scoreboard early scoring two touchdowns in the first quarter with the first score coming on a 6 yard run at 9:47 followed by a 5 yard touchdown run at 7:09. Kapolei scored again the first quarter on a 27 yard touchdown pass from Hurricane QB Aizon Kahana to Donovan Kapuniai with 5:12 remaining in the first quarter. Arielle Stoyanow tacked on all three PAT's to give Kapolei a 21-0 lead after one quarter of play.
Kapolei scored again in the second quarter on a 5 pass from Kahana to Daniel Magaoay with 6:45 on the game clock. Stoyanow converted the PAT to put the Hurricanes up 28-0 at the half.
Kapolei scored two more touchdowns in the thrid quarter on a 71 yard touchdown run by Tristen Pebria and on a 47 yard touchdown pass from Alton Julius to Ohaiali'I Bumanglang. Stoyanow added on both PAT's to put the Hurricanes up 42-0.
Pearl City scored their only touchdown of the game on a 36 yard touchdown pass from Travis Joe to Timothy Rivera. Pearl City kicker Dominic Maneafiga converted the PAT.
The Chargers kept the Hurricanes out of the end zone in the fourth quarter.
Tristen Pebria led all rushers with 188 yards on 19 carries with 3 touchdowns.
Kapolei senior female kicker Arielle Stoyanow was a perfect 6-6 on extra point attempts against Pearl City.
The Chargers have a first round bye next week to open the OIA White Division regular season. They will play Kalani at Kaiser High School on Friday, August 23.
Go Pearl City!

@ Kapolei High School

PC (0-1) 0 0 0 7 – 7
KAP (1-0) 21 7 14 7 – 42
Rushing PC: Travis Joe 6-25, Jordan Taamu 4-20,Timothy Rivera 4-11, Dominic Maneafiga 3 (minus-5.
Rushing KAP: Tristen Pebria 19-188, Aizon Kahana 5-40, Konelio Maluina 2-14, Kaimana Bunker 2-13, Alton Julius 1-6, Joseph Kaina 2-3, Malik Smith 3-1.
Passing PC: Travis Joe 4-5-0-52, Jordan Taamu 2-14-1-6.
Passing KAP: Aizon Kahana 5-7-0-66, Alton Julius 1-4-0-47
Receiving PC Timothy Rivera 3-39, Kierren McGhee 2-7, Paul Martin 1-12
Receiving KAP: Daniel Magaoay 2-18, Ohaiali'I Bumanglang 1-47, Donovan Kapuniai 1-27, Aizon Julius 1-14, Tristen Pebria 1-7.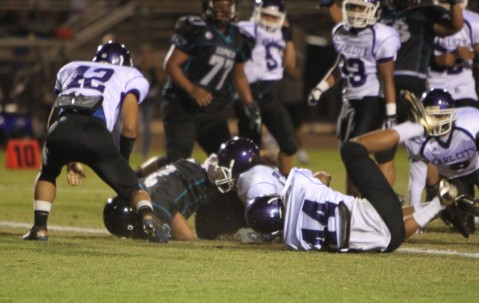 Photo by Barry Villamil | barry@mypearlcity,com
Kapolei running back Tristen Pebria scores his second touchdown of the ball game on 5 yard

touchdown run at 7:09 in the first quarter.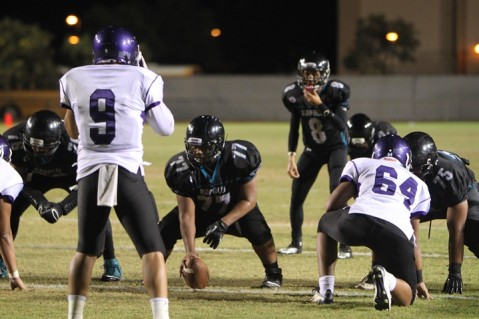 Photo by Barry Villamil | barry@mypearlcity,com
Kapolei QB Aizon Kahana pictured in the shot gun in the second quarter. The Hurricanes scored on
the play on a 5 pass from Kahana to Daniel Magaoay with 6:45 on the game clock.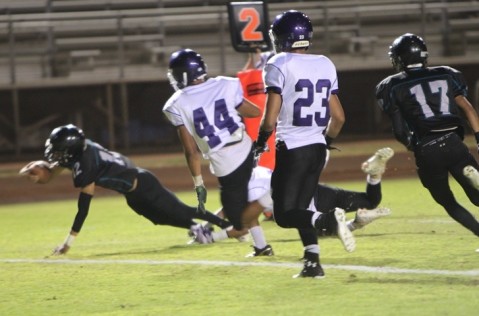 Photo by Barry Villamil | barry@mypearlcity,com
Daniel Magaoay scores on a 5 pass from Aizon Kahana late in the second
quarter. Kapolei took a 28-8 lead after the PAT by kicker Arielle Stoyanow.

Junior Varsity: Kapolei 40 Pearl City 0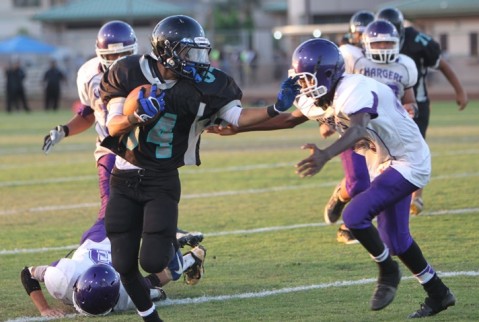 Photo by Barry Villamil | barry@mypearlcity,com