Submitted by Kelsey Higa who is providing daily game recaps from the Senior Little League World Series in Bangor, Maine:
It was a crazy first game in the Little League World Series for the Pearl City All Stars. Pearl City (West) played Martinez, Georgia (South East) in a intense battle between pitchers. Starting pitchers Trestan Nakamura (Pearl City) and Even Krenz (Georgia) both pitched excellent today.
Trestan Nakamura (Pearl City) went a strong six innings not allowing one run to cross the plate, but did not pick up the win. Relief pitcher Dane Kaneshiro (Pearl City) came into the game with runners at second and third with no outs in the top of the 7th. But, he wasn't phased striking out the next three batter he faced, killing South East's rally.
The bats for Pearl City was silent tonight only picking up three hits, one hit by Brandon Henderson sealed Georgia's fate. In the last inning Matt Tsutomi lead off the inning with a bang, he hit a stand up double to center field. Sanyo Lo was next to hit striking out on a foul tip. Tyler Kushima was then hit by a pitch. Shaye Higa reached on a error, loading the bases with no outs. Chevy Sumile then tried to suicide squeeze a run in, but failed when the pitcher picked up the ball and threw the runner out at home.
With the bases loaded for Pearl City with two outs, Brandon Henderson hit a double deep into the left center gap, plating Tyler Kushima and Shaye Higa for the walk off!
Pearl City will be playing tomorrow at 1 pm (7 am Hawaii time) against Canada. GO PEARL CITY!!!
Pitching:
Trestan Nakamura: 6 IP, 0 ER, 1 BB, 1 SO
Dane Kaneshiro: 1 IP, 0 ER, O BB, 3 SO
Batting:
Matt Tsutomi: 1 for 3, 2B
Brandon Henderson: 2 for 3, 1B and 2B, 2 RBI
@ Bangor, Maine

1 2 3 4 5 6 7 R H E
GA (0-1) 0 0 0 0 0 0 0 0 6 1
HI (1-0) 0 0 0 0 0 0 1 1 3 3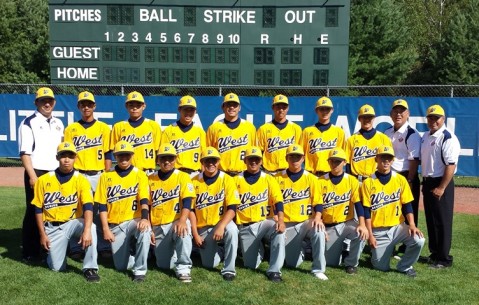 Photo provided by Kelsey Higa
Go Pearl City!