Today's Pearl City Senior LL World Series update reported by Kelsey Higa:
Another great game played by the Pearl City Senior Little League All Star team in Bangor, Maine getting a win over Asia Pacific (Philippines) 11-0 in the 6th inning due to the mercy rule.
They came out of the gates early scoring three runs in the first inning. Colby Hirano and Kawaiola Takemura both got on base with walks. Matthew Tsutomi then hit a rbi sac fly to right field line, plating Colby, who earlier advanced to third on a wild pitch. Tyler Kushima then hit a rbi single into right, scoring Kawaiola. Another run scored on a error by the shortstop.
Pearl City turned up the heat in the 5th inning scoring another 4 runs, and another 4 in the 6th inning. Pearl City hit the ball well tonight picking up 11 runs off of 10 hits.
Pearl City's starting pitcher, Brandon Henderson, pitched well today. He pitched 4 solid innings of scoreless baseball allowing 0 earned runs while striking out 6, on his way to a win.
Brent Clymer and Sanyo Lo both pitched one inning each and they both didnt allow a run to score.
Pearl City will have a bye tomorrow, and will be playing the host team (Bangor, Maine) on Thursday at 5 pm (11 am Hawaii time). Pearl City's record now stands at 3 and 0. GO PEARL CITY!
Pitching:
Brandon Henderson: 4 IP, 0 ER, 2 BB, 6 SO
Brent Clymer: 1 IP, 0 ER, 1 BB
Sanyo Lo: 1 IP, 0 ER, 1 BB
Hitting:
Colby Hirano: 1 for 3, 1 RBI
Kawaiola Takemura: 2 for 3, 2B, 1 RBI
Matthew Tsutomi: 1 for 2, 2 RBI
Sanyo Lo: 1 for 2, 2 RBI
Tyler Kushima: 1 for 3, 1 RBI
Shaye Higa: 1 for 3, 2 RBI
Chevy Sumile: 1 for 3
Brandon Henderson: 1 for 3, 1 RBI
Nicholas Au: 1 for 2
@ Bangor, Maine

1 2 3 4 5 6 7 R H E
Pearl City LL (HI) 3-0 3 0 0 0 4 4 — 11 10 0
Illam Central LL (PHI) 0-2 0 0 0 0 0 0 — 0 5 1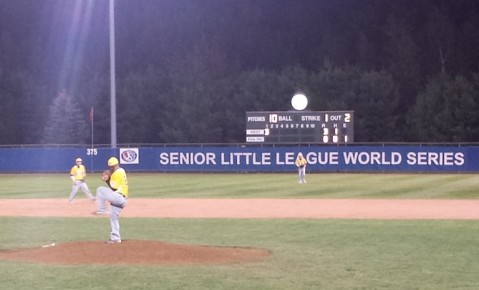 Photo courtesy of Kelsey Higa
Brandon Henderson earned the win for Pearl City over Asia Pacific (Philippines). Henderson

pitched four complete innings with six strikeouts.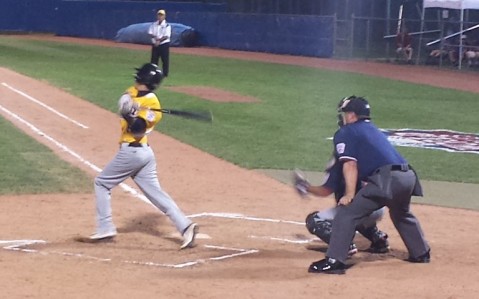 Photo courtsey of Kelsey Higa
Tyler Kushima pictured stroking a RBI single into left center field.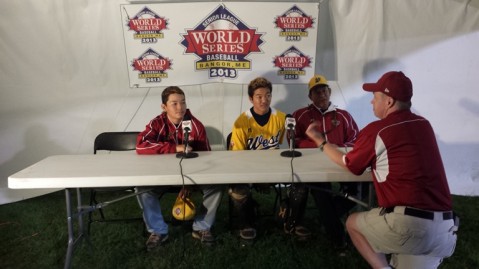 Photo curtsey of Kelsey Higa
Pearl City's Brent Clymer and Shaye Higa face the media in a post game interview at the Senior Little

League World Series in Bangor, Maine.