The Leeward Farmers Market which is presented by Nalo Farms every Sunday from 10am-2pm entered its second week of serving our community yesterday from Parking Lot C on the campus of Leeward Community College in Pearl City.
The market is growing and welcomed several new vendors. Nalo Farms is also excited to bring on board future vendors which includes Ilima Award winner, Tanioka's Seafood & Catering starting September 8.
MyPearlCity.com is working with Nalo Farms to bring you the latest Leeward Farmers Market weekly news updates and as well as special vendor features that serve to showcase each business, business owner and their specialty "Hawaii" product line.

Leeward Farmers Market Updates:

Last Week's New Vendors:

North Shore Value Wagon

Produce i.e. baby lettuce, kale dragon fruit, etc.
Green Point Nursery

Anthuriums
Honomu Jams and Jellies from Big Island

Hawaiian Organic Noni from Kauai

Fruit leather and Noni lotions
Pomai Kulolo

Haupia, Kulolo, Haulolo
SKA Tropicals from Kahalu'u

Apple bananas, avocados, red torch ginger and more. Chocolate covered bananas made on site.
This Week's New Vendors:

Souza's Smoke House

Smoke meat plates, packaged smoked ribs, smoked marlin dip, pasteles.
Aloun Farms
Every other week.
TLC Doggie Treats

Starting. September 1, 2013.
Tanioka's
Starting. September 8, 2013
Nalo Farms Leeward Farmers Market

Business of the Week

POMAI KULOLO

Keanue Kekaula, Owner
Pomai Kulolo made its debut at the Leeward Farmers Market on Sunday and was an instant hit with the crowd. Owner, Keanue Kekaula and his ohana presented and served up delicious Hawaiian desserts which included; haupia, kulolo, haulolo, as well as ono poi made from taro grown on Kauai.
"My son Keanue is the owner of Pomai Kulolo and he makes traditional Hawaiian desserts along with a Hawaiian staple called poi, which everyone's familiar with," said proud Dad, Ashord Kekaula. "Actually it's not just poi, its excellent poi. The mainstay in which he started off is kulolo, which is basically made of kalo (taro), coconut milk and sugar. One of the features in coming to a farmers market such as this is everything is made fresh the day before. Especially when we make the haupia as well as the haulolo. Haulolo is basically a layer of kulolo on the bottom with haupia on the top. Haulolo is extremely delectable as a culinary treat and it just explodes with flavor in your mouth. Also, we've had a lot of customers out here today. It seems like a rather brisk market. Even though the sun is shining on this part of the parking lot, there is a cool breeze that is constantly coming through us. Its really nice."

Well, Dad was right about the explosion of flavor when enjoying haulolo. It's really good. Actually, I purchased and tasted all four Pomai Kulolo Hawaiian specialty items, Haupia, Kulolo, Haulolo and Poi from the Kekaula's on Sunday. On the way home I stopped off and picked up some fish and shared my catch with my ohana and neighbors. We enjoyed every bite. It really brought back memories. It sure did!
Stop by the Pomai Kulolo tent on Sunday for a delicious taste of Hawaiian Heaven.
To learn more about Pomai Kulolo log on to: http://pomaikulolo.com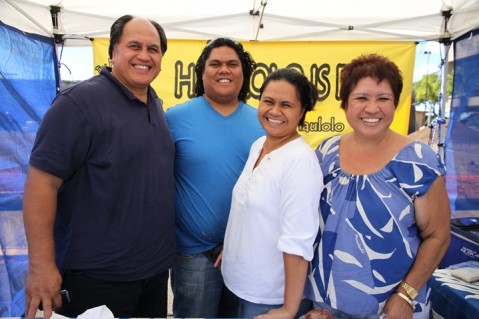 Photo by Barry Villamil | barry@mypearlcity.com
Pomai Kulolo

Kekaula Ohana (from left to right) Ashford, Keanue (owner), Ashlin, and Iris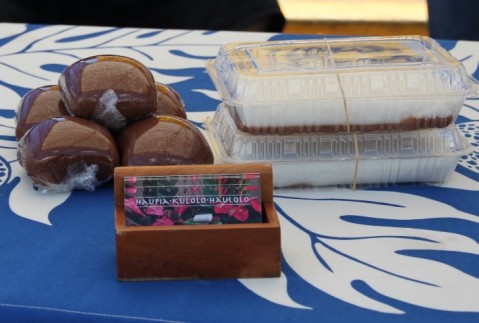 Photo by Barry Villamil | barry@mypearlcity.com
Pictured: Kulolo and Haulolo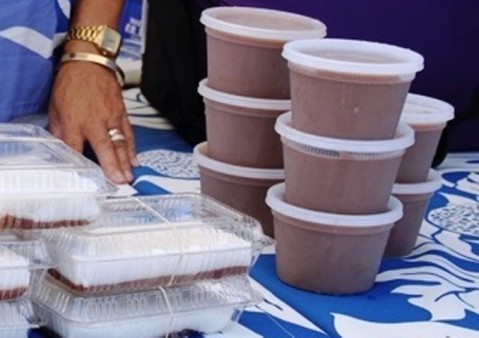 Photo by Barry Villamil | barry@mypearlcity.com
Pictured: Haulolo, Haupia, and Poi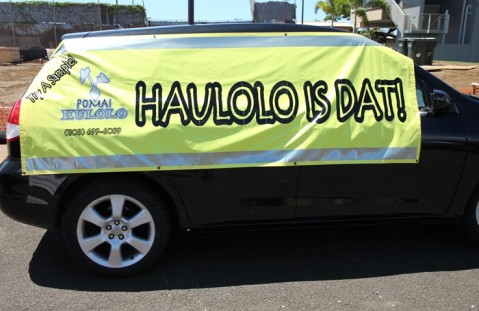 Photo by Barry Villamil | barry@mypearlcity.com