Scottina (Scotty) Ruis has spent a good portion of her life and career caring for the welfare of others. Scotty is a mother of three daughters and currently lives in Pacific Palisades where she also grew up.
As a member of the Pearl City Lady Chargers varsity volleyball squad in the early 80's, and later as a collegiate volleyball player on the mainland, Scotty learned the values of working hard as an individual in order to be a better team player.
Hard work that benefits the success of the team is the driving force behind reaching her goals as a professional in the insurance industry today. With a degree in Psychology and Master's Degrees in both Social Work and Business from the University of Hawaii at Manoa, she has molded her education and her social guidance experiences into a successful career as an agent at New York Life in Honolulu.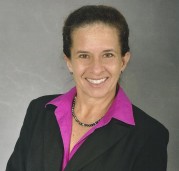 Scotty learned early on from her playing days at Pearl City High School that in order to get into the game and prepare yourself for the next level you needed to be mentally tough, on and off the court.
"As a freshman in high school I played varsity volleyball. When I was in intermediate school I hung out with the eighth graders so when they went up to high school I became the manager for the high school team. By the time I tried out for freshman volleyball I was on the varsity team. I played middle blocker.
Coach (Bruce) Hisanaga was my volleyball coach at Pearl City High School. He was tough, but in hindsight he was very helpful and if he had not geared all of us for college and for higher education, I probably would not have gone. As far as getting on to the higher ed, it was volleyball, definitely. Coach Hisanaga, my dad, and all of my teammates played a big role. I had my core group of friends that I hung out with and you know it's funny, we all went in different directions but we still hang out today."
Scotty learned through Coach Hisanaga, the importance of sharing and extending your skills and abilities to the youth below so that they may progress and improve their skills when the time comes to step up to the high school level of competition.
"In high school part of the program at that time was we were required to coach. So we coached PAL from when I was in eighth and ninth grade. The theory back then was how we build up the next generation of volleyball for the high school. That was part our job as high school volleyball players was to train the next level of kids coming up. We did a lot of that."
Moving to the next level wasn't easy for Scotty. It wasn't about her ability to play at the collegiate level, she knew how to play the game, it was financial. After two years, and no scholarship monies available, she moved on. Work was more important. Survival put volleyball in the back seat while she moved on with her life. Returning home years later, she pursued her college education and went beyond her higher education expectations.
"I went away to college for two years and basically ran out money. I did a semester in a program where I went around the world and traveled. No volleyball money for that. After that I had to work. I worked for six years on the mainland and came back home and actually got my degree back here. I got all my degrees from UH Manoa. I was able to get money from Kamehameha Schools and got my Bachelor's Degree in Psychology. I would never have even considered continuing to get my Masters except for the counselors. The counselors, they convince you that it's such a good idea, so I continued on and got my Masters in Social Work."
Grief guidance counseling and being involved in the insurance industry as a customer service representative, unexpectedly brought Scotty full circle with her career today.
"I spent ten years doing grief counseling for orphan and desolate children here in Hawaii. When I first came home, I actually worked in the insurance industry for five years in customer service. So I never would of thought that coming from that place that I would come back and be in the position that I'm in now. While working in customer service, I went back to school and got my bachelors and got my masters. After my ten years of grief counseling, I went back to school and got a Master's in Business because I wanted to do more with my life and be more proactive with my services, I wanted to be able to help people before the crisis type of situation. Ironically enough, I've come full circle, and now, I'm at the front end again. Instead of on the customer service side, I'm in the driver's seat and I'm really helping people to plan. Helping people to plan whether it's personal planning, business planning, or estate planning. Planning whatever future they want. It's kind of cool because this person is not like the next person, or like the next person. It's is always going to be different, because your goals are going to be different from the next person. I like that, and today I still feel like I'm in a social service kind of role because I'm able to help people figure out what it is that they want.
For me, it's still very much in line with my training and my background. If you asked me this twenty years ago I would have never said that's what I'm going to be doing. When I first started college, when I went up to play volleyball, I was a business major. But I never thought, that now, I would be in a financial planning type of situation. I never saw myself in this position back then, although when I look back, it kind of makes sense because everything does tie in. I don't want to be your life insurance agent. I want to be your agent for life."
Guidance counselors played an instrumental role in Scotty seeking a Masters Degree in Social Work. Her accomplishment assisted in elevating her expertise and ability to deliver guidance to a larger and diverse group of guidance seekers.
"When I went to school for my Master's in Social Work, I wanted to go into guidance counseling. I wanted to be able to guide people. I ended up in social work because in discussion with my counselor, that would make me the most marketable. I could help the most varieties of people from geriatrics patients to child and family. It gave me the broadest options. In the same respect now, I think I have that opportunity to educate and to help people. Not so much to say, hey this is what you should be doing, but to say hey, these are your options, and if you go this way this is what could happen."
Scotty also gives back to her community through New York Life's Keiki I.D. Program.
"New York Life does community service and of the opportunities that we have to give back to the community is with the Keiki ID Program. Basically, what I do is I look for opportunities within the community like the Manana Elementary School Craft Fair. I grew up in Palisades and went to Palisades Elementary and I wanted to do the Palisades Fair, but they were doing construction at the time so I really look for those types of things that are within the Pearl City Complex Area. To me, this is my home base and this is where I want to reach out. We're trying to look for where's the best need and the kids seem to be a good population to service especially with all the young families. Also, we don't charge for the Keiki I.D.'s. Myself and some other co-workers chipped in and we bought the machine together and we usually share the costs for the laminating machine. There is no cost for the participants to come by and get an ID. We do all that as a way to be more visible in the community and to give back to the community."
Mahalo to Scottina Ruis for spending the time to share her story with our MyPearlCity.com online ohana. Her many years of serving those in need through her social work, professional financial planning career, and community volunteer work has benefited so many residents and will continue to do so as long as Scotty is leading is the way. She is a true PC Heart & Soul contributor to our community.
"I don't want to be your life insurance agent. I want to be your agent for life".
…..Scottina Ruis
To get in contact with Scottina Ruis log on to:
www.facebook.com/ScottinaRuisAgent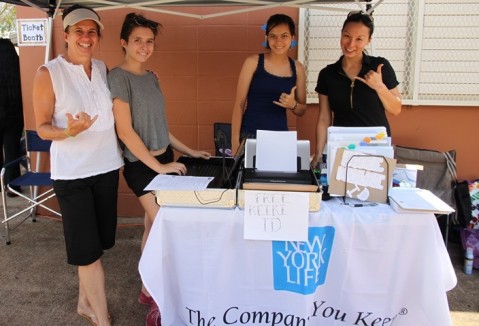 Photo by Barry Villamil | barry@mypearlcity.com
Scottina (far left) pictured with her daughter (2nd from left) and the New YorK Life volunteer crew
in the New York Life Keiki I.D. booth at the Manana Elementary School Craft Fair held in April of 2013.