Pearl City High School interim principal Aaron Tominaga (PCHS '91) has taken over the helm of the PCHS campus following the vacancy left by former principal Ms. Carlyn Fujimoto who is no longer with the school. Also leaving the school after the 2012-2013 school year was VP Mr. Joseph Halfmann who was hired as the new principal at Lehua Elementary School following the retirement and very successful career of longtime school principal Mrs. Fay Toyama.
As Mr. Tominaga and his administrative staff await the announcement of who will be chosen to succeed principal Fujimoto, its business as usual at the Pearl City High School campus.
"Right now it's going pretty good," said Tominaga. "Initially at the beginning it was hard just losing Ms. Fujimoto and Mr. Halfmann, but right now I have a real positive feel for the opening of the school year. We do have two new VP's, Shane Greenland from McKinley High School and Herman Leong from Nimitz. They join VP Kyle Miyashiro who is still here. I'm not sure how long it will be, but when we hire a new principal I will go back to my old position as vice principal. Shane Greenland will either go back to the classroom or as a VP at another school."
Stepping up from VP to Principal hasn't changed Tominaga's philosophy with regard to his approach in serving the students with the best education possible.
"I feel the same way," Tominaga said. "My philosophy is I'm here to serve the community and serve the students. To help deliver the best education we can for all the students. In those terms I don't feel any different. It's just more responsibility. I'm honored and pleased to serve in this interim capacity until the change takes place."
As a father with a young family, Tominaga is hoping to be hired in the future as an elementary school principal in the Pearl City District Complex.
"Right now with my young family, I love Pearl City and I love the people of the community because they have been real positive. One day I'm hoping to be a principal of an elementary school."
For now, Tominaga is focused on moving the school forward while improving on the quality of education delivered by his administration, faculty, and staff for the over 1800 students enrolled at Pearl City High School. The beginning of the new school year overall consensus is that the school is moving in a positive direction.
"The best judge would be to talk to the teachers and the students, but right now like I said, I have a real positive feel and that's my humble opinion," Tominaga said with confidence.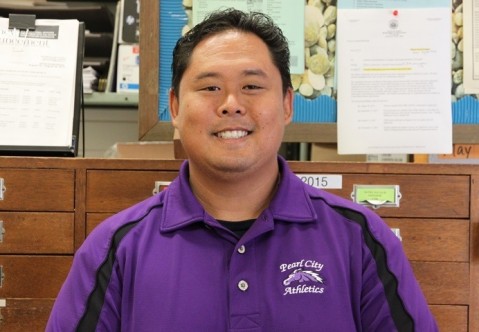 Photo by Barry Villamil | [email protected]
PCHS interim principal Aaron Tominaga pictured recently inside the PCHS Administration offices.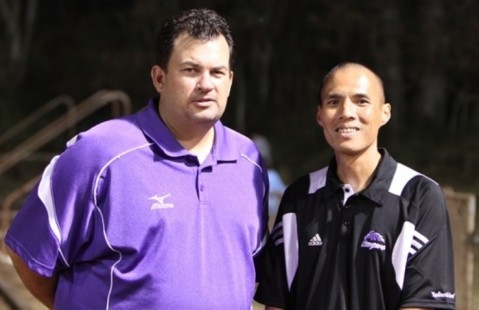 Photo by Barry Villamil | [email protected]
Recently hired PCHS VP's Shane Greenland (left) and Herman Leong (right) are pictured on the job
during the August 30th, Pearl City vs. Waialua varsity football game at Edward "Bino" Neves Stadium.