The Memorial Task Force, co-chaired by David Brostrom and Allen Hoe, will announce at a 2:00pm press conference scheduled for this afternoon at the Vietnam War Memorial on the grounds of the State Capitol, that they are leading efforts in seeking the public's input for the design and location of a newly planned memorial to honor Hawaii veterans.
"A grateful state best honors and remembers the sacrifices of those who have served our nation by living our lives in deepest appreciation of our freedom. That is what they defended and that is what they fought and died for. We honor them and their families with this memorial," said Rep. K. Mark Takai, who helped to create the Task Force.
Brostrom and Hoe are the Gold Star Fathers of Army 1st Lieutenants Jonathan Brostrom and Nainoa Hoe who were killed in action while serving in the Middle East. Brostrom and Hoe are both war veterans who played an instrumental role in working with Representative Takai to lobby for the Hawaii Gold Star License Plates that honor fallen warriors and their families. The license plates made their debut in October of 2011.
Hawaii Gold Star License Plates Honor Fallen Warriors

People can contact the Task Force at 808-433-0423.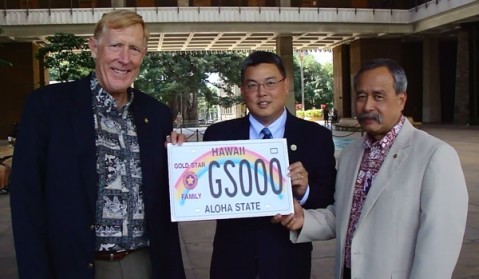 MyPearlCity.com File Photo | [email protected]
David Brostrom (left) and Allen Hoe (right ) pose for a photo at the State Capitol with

Representative Mark Takai during a ceremony in October of 2011 that followed the passing of

a law by the Hawaii State Legislature that created the new Hawaii Gold Star license plates.