Palisades Elementary School was rewarded $75,000 by the Hawaii Department of Educations' STRIVE HI program on Tuesday, September 10 in a recognition ceremony that distributed over $1,000,000 to fourteen Hawaii public schools.
Governor Neil Abercrombie, along with DOE officials and state legislators were in attendance to congratulate and reward the schools who were recognized for improvement in their academic performances.
Palisades Elementary School Principal Suzanne Yamada was first to give recognition to her school ohana who made it possible, through hard work, to receive the recognition and $75,000 check.
"We are very honored to be designated a Strive Hi Recognition School," said Yamada. "Our school community works tirelessly to prepare our students to be college and career ready. This award recognizes our students, teachers, staff and parents for staying the course!
The $75,000 awarded to the school will be used to purchase Common Core instructional materials for the State's new language arts program. The timely receipt of the funds eliminates the need to adjust our budget to purchase the new program. "
Congratulations to Principal Yamada and the entire Palisades Elementary School Ohana!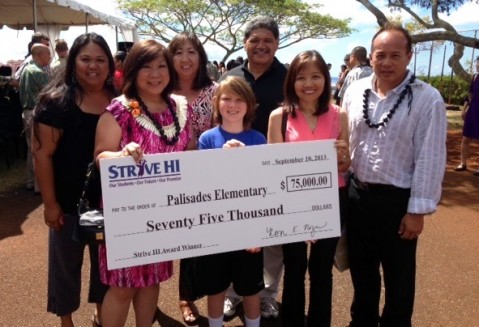 Photo courtesy of Palisades Elementary School
Palisades Elementary School Principal Suzanne Yamada (second from left) is pictured holding the STRIVE HI $75,000 check with the Palisades Elementary School ohana who were present on Tuesday, September 10, 2013 during the awards ceremony held at Red Hill Elementary School. Pearl City District Complex Schools Superintendent Rodney Luke (far right) also attended the event in support of Palisades Elementary School and the complex.