Over 57 boys and girls teams representing divisions between U5 and U12 participated in the AYSO Opening Day Parade held on Saturday, September 21 at Waiau District Park in Pearl City. Each team lined up and paraded around the Waiau District Park soccer fields, near the Waiau Fire Station, wearing their team uniforms while displaying their team banners.
After a stop at the judge's tent, the teams headed off to the Meadow Gold refreshment tent for a cold POG drink.
Winners were announced and awarded in each of the different divisions.
The opening day parade serves to demonstrate "Good Sportsmanship" which is one of AYSO core philosophies
Mahalo to super soccer mom, Lisa Okuna for all the information sent to me with regard to Saturday's AYSO Opening Day Parade!
For more Hawaii AYSO information log on to: http://hawaiiayso.org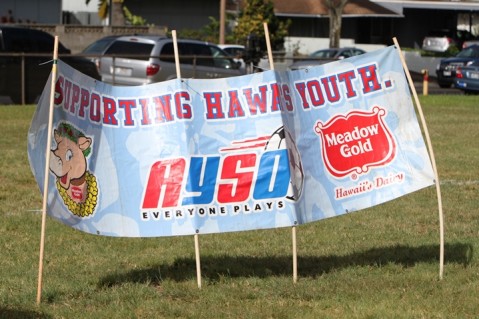 Photo by Barry Villamil | barry@mypearlcity.com
Meadow Gold, AYSO sponsor