Community volunteers came together on Saturday, September 21 during Peace Day Hawai'i to string together the Aloha Peace lei that was placed on the Peace Garden Pathway located at the University of Hawai'i CTAHR Urban Garden Center in Pearl City.
The Aloha Peace lei creation and presentation was a part of Peace Day Hawai'i which is held annually on September 21 at the UH Urban Garden Center in celebration of the United Nations International Day of Peace and Non-violence.
In April of 2007, Hawai'i became the first state to officially recognize the United Nations International Day of Peace and Non-violence which is celebrated today in over 200 countries throughout the world.
"that September 21 of each year shall be known and recognized as "Peace Day" to promote peace programs, improve international relations, and increase educational awareness of peace…All citizens shall be encouraged to observe and celebrate the blessings of peace and endeavor to create peace on peace day." (Act 23).

Saturday's Peace Day Hawai'i festivities included the announcement of the 2013 Peace Day Hawai'i Award Recipient that was awarded to Ramsay Remigius Mehealani Taum who also served as the events guest speaker. Taum received the Distinguished Peacemaker Award after an introduction by Dr. Papalii Tusi Avegalio.
The Honolulu Rose Society (HRS) received the 2013 UGC Peace Garden Dedication Recognition Award which recognized Honolulu Rose Society President Myrna Cariaga and past UGC Master Gardener President Bob Speer for their leadership while coordinating and working alongside the HRS membership in creating, growing, and expanding the UGC Rose Garden and Peace Garden.
Mastergardeners from the Urban Garden Center's Master Gardener Program helped answer the public's questions on how to grow and care for plants and trees and also participated in stringing together the Aloha Peace lei.
The public was given a great opportunity to enjoy the day that was filled with free entertainment, food and drinks, and Garden activities.
Photo by Barry Villamil | [email protected]
Volunteers created the beautiful Aloha Peace lei from flowers and plants grown on the UGC property.

Photo by Barry Villamil | [email protected]
UGC Master Gardeners past President Bob Speer (far left) and HRS President Myrna Cariaga (far right)
pose for a photo in the UGC Honolulu Rose Society Rose Garden with Rotary Club of Pearlridge past
president Tony Lorenzo, Hawaii State House Representative Lyla Berg, and Rotary Club of Pearlridge
Board member Greg Arakaki. The Rotary Club of Pearlridge membership played an instrumental role in the
volunteering their time the past few years to help plant roses and build the UGC Rose Garden Pergola
structure. Representative Berg and Greg Arakaki work closely with their community's high school Interact
clubs who volunteer their time in helping out with projects that benefit the community. Arakaki coordinated
the help from student volunteers representing the Aiea High School Interact Club who spent a few
Saturday's at the UGC Rose Garden with the construction of the Rose Garden Pergola and retaining walls.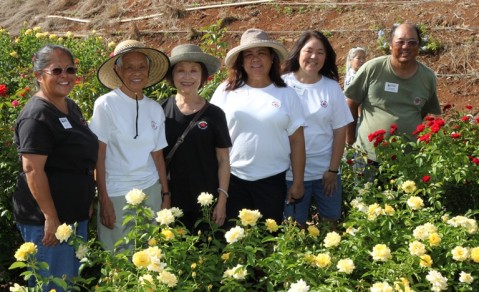 Photo by Barry Villamil | [email protected]
Honolulu Rose Society Officers (from left to right) Cathy Matsuzaki (Membership Director),
Lilia Brewbaker (Treasurer), Elizabeth Wong (Consulting Rosarian), Myrna Cariaga (President),
Marsha Yokomichi (Vice-President) and Ron Matsuzaki (UGC Rose Garden Director).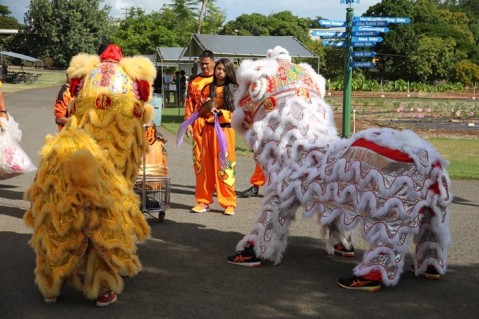 Photo by Barry Villamil | [email protected]
A traditional Lion Dance Blessing was conducted on the UGC grounds.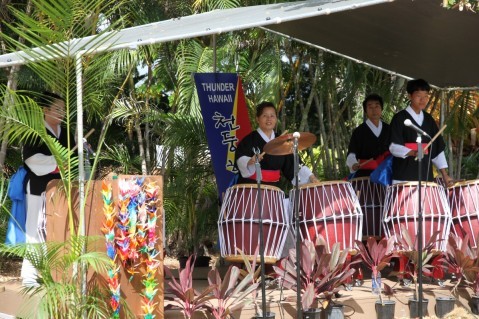 Photo by Barry Villamil | [email protected]
Thunder Hawaii pictured performing to "Samul Nori" on center stage.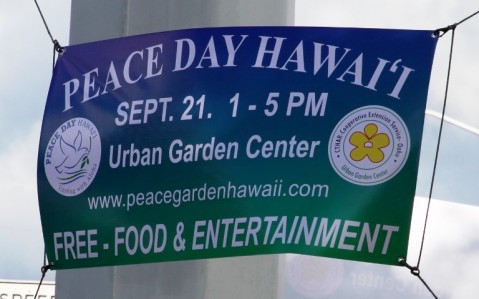 Photo by Barry Villamil | [email protected]