This week, Nalo Farms Leeward Farmer's Market features Buenos Antojitos as the "Business of the Week" in the Team Nalo spotlight. Buenos Antojitos owners Joan and Chris Fadely opened for business at the market for the first time this past Sunday and they were well received. The couple introduced hot, fresh, Puerto Rican Empanadas made with chicken, beef and shrimp to a hungry crowd that came back for seconds.
Joan is a currently enrolled in the culinary program at Leeward Community College and Chris is in the military stationed here on Oahu. Together, they are enjoying their time in Hawaii while contributing to our community as an active military family, successful business owners, and as a student in our University of Hawaii Community College system.
Let's all welcome Buenos Antojitos to the Nalo Farms Leeward Farmer's Market ohana!
Nalo Farms Leeward Farmer's Market
"Business of the Week"
Buenos Antojitos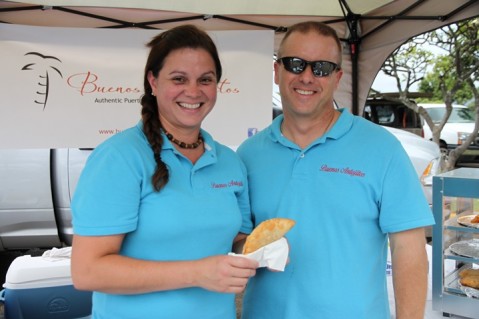 Buenos Antojitos, owners, Joan and Chris Fadely

How has your experience been so far at the Nalo Farms Leeward Farmers Market?

"Today is our first day here and we're very excited," said Chris Fadely. "Things have been going well. My wife is Puerto Rican and that's are connection to the Puerto Rican food. That's her thing to do. Joan is a student here at Leeward Community College. She's going through the culinary school and got word from some of her teacher's that this was going on. We got hooked up with Dillan from (Nalo Farms) and that's how we found out about it."
What does it feel like to open your food business in the parking lot of the school that you are currently enrolled in as a culinary program student?

"Almost all my chair's came to see me," said Joan Fadely. "They are proud to see their students doing something special like this. I've been trying for a year to start my business. My goal is a food truck. That's my dream. I wanted to start my business like this for now, and it's awesome! We made a lot of people love the food."
How are you enjoying living in Hawaii?

"I love Hawaii," Joan said. "It's like being back in Puerto Rico. since my husband is in the military. This is how I grew up. I just left Puerto Rico in 2005. For me it's safer here, and we have three kids. It's a great place to raise your kids. I love it here. I don't want to move."
Any special thanks for helping you get your business to where it is today?
"Nalo Farms was very useful for us, they helped us a lot," Joan said. "They gave us a chance here."
Do you have plans to expand your selection of Puerto Rican dishes offered at the Leeward Farmers Market?

"We sell authentic Puerto Rican food,"Chris said. "Today we have Empanadas, next week we're going to come with rice and beans as well as a side salad."
After enjoying both the chicken and beef Empanadas on Sunday, I'm really looking forward to this Sunday's Rice and Beans!

For more information contact Joan Fadely at: E-mail: [email protected] or Tel: (808) 674-7125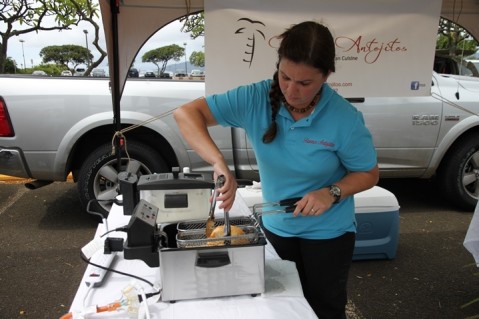 Joan gives an Empanada a final turn in the fryer.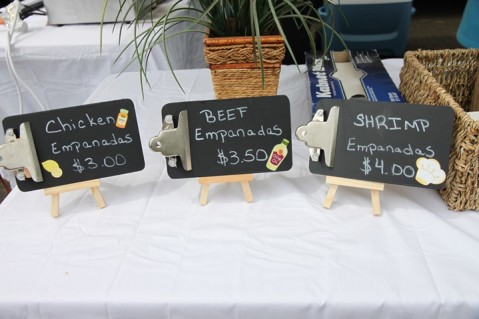 Your choice of chicken, beef, and shrimp Empanadas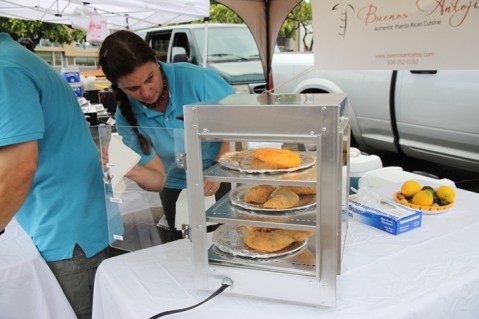 Joan and Chris keep the Empanada warmer well stocked for the lunch time rush!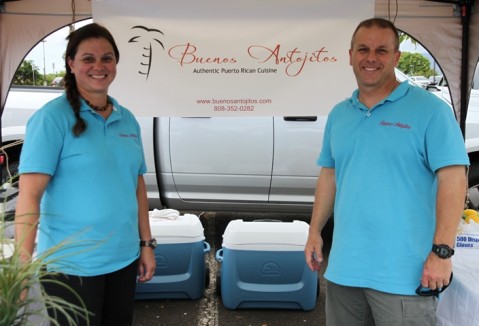 Check out Joan and Chris Fadely from Buenos Antojitos for the finest Puerto Rican food this Sunday

at the Nalo Farms Leeward Farmer's Market located at Leeward Community College in Pearl City.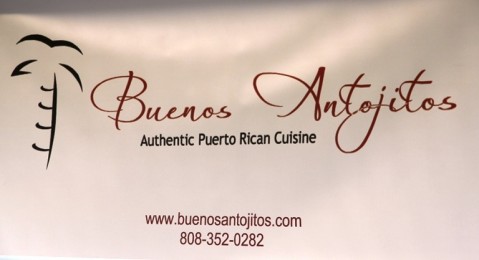 Leeward Farmer's Market Hours of Operation
The Nalo Farms Leeward Farmer's Market is open on Sunday's from 9:00am to 12:30pm at Leeward Community College's Parking Lot C.