The Oahu Interscholastic Association White Division Football semifinal playoffs are set, and if you're a Pearl City Chargers football fan, this is what we've all been waiting for:
PEARL CITY VS. KALANI II – THE REMATCH!
After being blown out by Kalani 40-8 to open the regular OIA White Division season, Pearl City has played inspiring football by dominating their opponents on defense and lighting up the scoreboard on offense. The Chargers reeled off five straight conference wins following the loss to Kalani, before losing to league leading Kaiser on October 4, at home, 31-6. The Chargers came back last week Friday and beat Radford 7-6, on the road, in a tough defensive battle.
Pearl City's win over Radford forced a three-way tie between Kalani, Pearl City and Radford for second place at 6-2 behind Kaiser's perfect 8-0 league record.
Kalani drew the second seed last Saturday with Pearl City seeded at #3 and Radford #4. Pearl City's win over Radford was the deciding factor in which teams would be seeded #3 and #4 in next week's OIA White Division semifinal playoffs.
Kaiser #1 will meet Radford #4 for second time with Kaiser winning big in the first contest 48-7 at Radford on October 30.
Semifinal Match-ups:

Friday, October 18

@ Kaiser High School

JV Kaiser vs Kalaheo 5:00pm
V Kaiser vs Radford (25 min following the JV contest)
@ Radford High School

JV Nanakuli vs Radford 5:00pm
V Kalani vs Pearl City (25 min following the JV contest)



GO CHARGERS!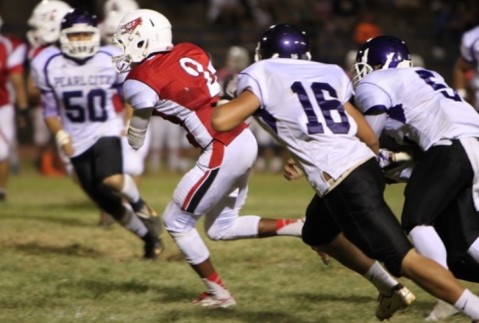 MyPearlCity.com File Photo | barry@mypearlcity.com
Pearl City's #16 Nathaniel Fereti and the Chargers defense closes in on a Kalani Falcon ball

carrier in the first game won by the Falcons 40-8 on Friday, August 23, 2013 at Kaiser High School.