The Pearl City Chargers earned a spot in the Oahu Interscholastic Association's White Division Football Championship game after defeating the Kalani Falcons 28-14 on Friday at Radford High School.
The Chargers (7-2) will play the Cougars (9-0) for the OIA White Division Championship on Friday, November 1 at Aloha Stadium. It will be the second time the two teams will meet this season. Kaiser defeated Pearl City 30-6 on October 4 at Pearl City High School. Kaiser beat Radford 51-3 on Friday at Kaiser High School to reach the championship game against Pearl City.
Pearl City's 28-14 win over Kalani avenged a 40-8 loss to the Falcons that opened the regular season for the Chargers on August 23. The win also clinched a state tournament berth for the Chargers. The two top OIA White Division teams earned a trip and seeding in the HHSAA D2 State Football Championship Tournament in November.
Friday night's match up between the Chargers and Falcons was a well-played, well coached game with both sidelines featuring seasoned coaching staff's that know how to prepare their athletes for the big games. Falcons head coach Greg Taguchi has local football coaching icons Ron and Cal Lee on his staff that brings years of experience at winning state high school championships as well as coaching at the DI college level at the University of Hawaii.
First year Chargers head coach Robin Kami had a successful career as the Chargers junior varsity coach before moving up to the varsity and taking control of the Pearl City Chargers football program in spring of 2013.
Kami has a smart, well disciplined oriented coaching staff that has quickly taken the Chargers to the level of play that has positioned them for an opportunity to compete for an OIA championship.
Coach Kami was all smiles following the Chargers victory as he credited both his defense and offense for coming together and contributing in a big way towards Friday's win over Kalani. He knew he was going to be in a war with the Falcons and preparing his players to face them in a rematch created a bit of anxiety for the Chargers coaching staff.
"This is unbelievable," said Kami. "We didn't expect this. The defense did it again. Every week the defense always comes through, but finally our offense helped us out big tonight. We had nightmares this whole week trying to practice for Kalani."
Preparing to stop the potent Kalani offensive attack led by Falcons QB Noah Brum was a big challenge. The Chargers defense gave up ground, but played tough down the stretch. The Chargers kept the Falcon's out of the end zone with key fourth down stops that took away the Falcons scoring threats and momentum and preserved the win.
"We couldn't stop them, we were just trying to prevent them from getting in the end zone," Kami said. "We knew they were going to get some yards. We were hoping we could get some interceptions."
Coach Kami got an interception from DB Cody Crail that stoped a second quarter drive deep in Pearl City territory. The Chargers also got to the Kalani QB late in the fourth quarter on a sack by Petro Mataia after the Falcons took over on the Chargers 14 yard line.
Key fourth down stops made the difference in the ball game for the Chargers with the biggest stop coming on fumble by Falcon QB Noah Brum that was recovered by Pearl City D-lineman Zebadiah Selu with fourth and goal on the Chargers 2 yard line with just over 3:00 minutes remaining in the game. The Chargers took over and were able to run out the clock.
GAME STATS:
PASSING:

PEARL CITY: QB Jordan Taamu completed 17 of 24 for 186 and one touchdown.
KALANI: The Chargers kept Falcon QB Noah Brum in check holding him under 200 yards through the air. Brum completed 18 of 36 for 186 and two touchdowns.
RECEIVING:
PEARL CITY: Kierren McGhee led the Chargers hauling in 6 passes for 58 yards. Timothy Rivera 3-30, Kristian Vaana-Kikuyama 2-35 and one touchdown, Blake Cooper 2-25, Matt Dulatre 2-19, Abero 1-12, and Justin Dupio 1-7.
KALANI: Brandon Roberts led the Falcons with 9 receptions for 98 yards and one touchdown. Blaise Manabe 3-31, Ikona Mamiya 2-46 with one touchdown, Trevor Yamashita 2-4, Enrique Gruver 1-6, and Tyler Ho 1-1.
RUSHING:

PEARL CITY: Blake Cooper was unstoppable rushing for 188 yards on 14 carries with touchdown runs of 48 and 10 yards. Kristian Vaana-Kikuyama picked up 32 yards on 2 carries and also scored on a 20 yard touchdown run. Justin Dupio 11-24 and Reno Abero 6-3 rounded out the Chargers rushing game.
KALANI: Enrique Gruver ran for 62 yards on 9 carries.
@ Radford High School
Pearl City (7-3, 7-2) 7 7 6 8 28
Kalani (9-1, 9-0) 0 7 7 0 14
SCORING SUMMARY: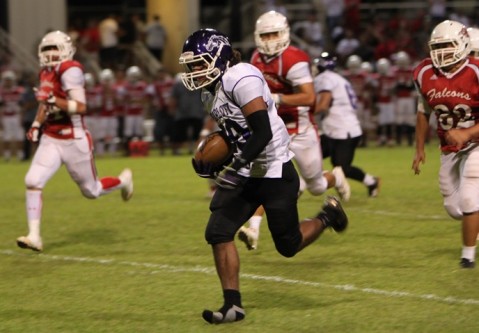 Photo by Barry Villamil | barry@mypearlcity.com
Blake Cooper scores on a 48 yard touchdown run (with one shoe) that put the Chargers up 6-0

at 3:39 of the first quarter. Dominic Maneafiga converted the PAT to make the score 7-0.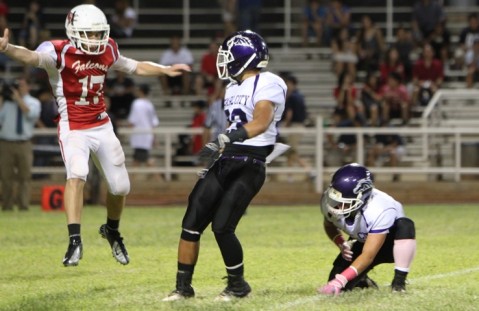 Photo by Barry Villamil | barry@mypearlcity.com
Pearl City's Dominic Maneafiga drills the PAT through the uprights.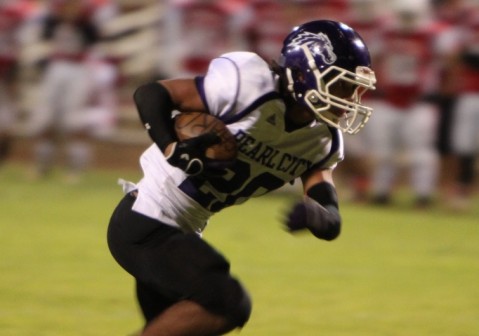 Photo by Barry Villamil | barry@mypearlcity.com
Blake Cooper scores on a 10 yard touchdown run at 2:04 of the second quarter.

Pearl City took a 14-0 lead over Kalani following Dominic Maneafiga's PAT.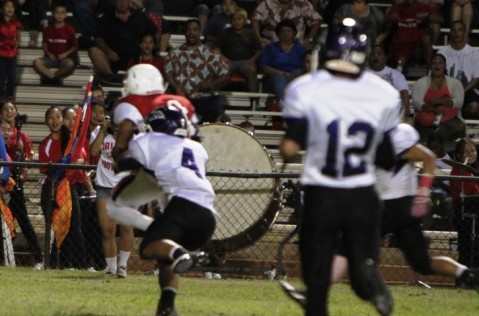 Photo by Barry Villamil | barry@mypearlcity.com
Kalani's Brandon Roberts scores on a 17 yard touchdown pass from Falcon QB Noah Brum

with :59 seconds on the clock in the second quarter. The Falcons pulled within a touchdown

at 14-7 following the PAT by kicker Marc Teshima.


Photo by Barry Villamil | barry@mypearlcity.com
Kalani kicker Marc Teshima kicked through the PAT to make the score 14-7.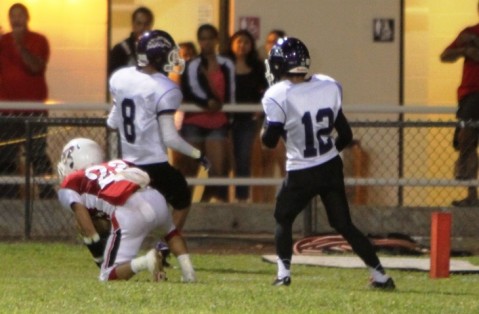 Photo by Barry Villamil | barry@mypearlcity.com
Kalani came out of halftime and scored on their first possesion on a 33 yard touchdown pass

from Brum to Ikona Mamiya with 10:11 on the clock in the third quarter. The PAT kick by

Marc Teshima tied the game at 14-14.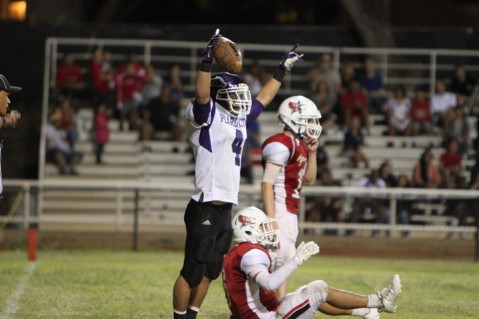 Photo by Barry Villamil | barry@mypearlcity.com
The Chargers regained the lead at 20-14 on a 16 yard touchdown pass from Jordan Taamu to

Kristian Vaana-Kikuyama with 2:18 on the clock in the third period. The PAT was missed.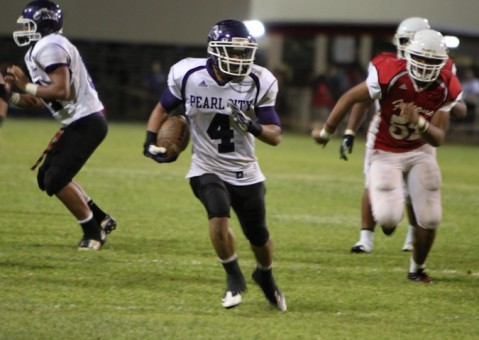 Photo by Barry Villamil | barry@mypearlcity.com
Kristian Vaana-Kikuyama heads towards the end zone and will score his second touchdown
on a 20 yard run with 8:50 on the clock in the fourth quarter that put the Chargers up 26-14.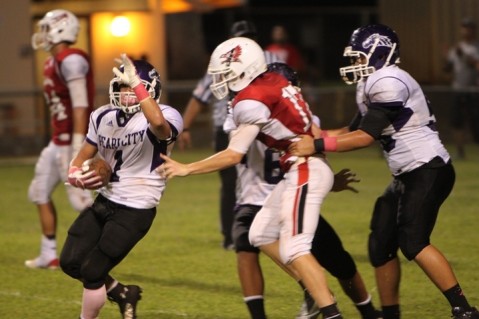 Photo by Barry Villamil | barry@mypearlcity.com
Timothy Rivera scores the two-point conversion on a pass from Taamu that put the Chargers up 28-14.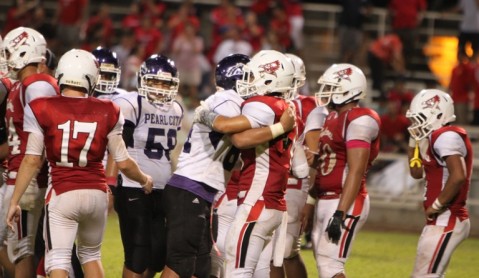 Photo by Barry Villamil | barry@mypearlcity.com
Class of the OIA White Division. It's all about respect in battle and friendship!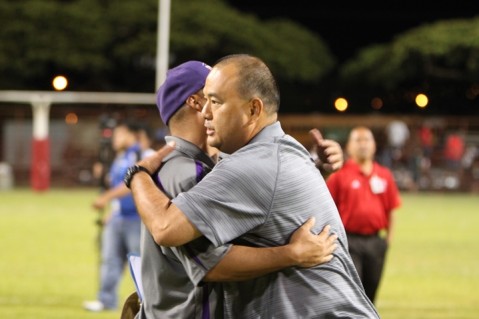 Photo by Barry Villamil | barry@mypearlcity.com
It all begins with the coaching leadership. Head coaches Robin Kami (Chargers) and Greg Taguchi

(Kalani) meet at midfield following their match-up on Friday, October 18, 2013 at Radford High School.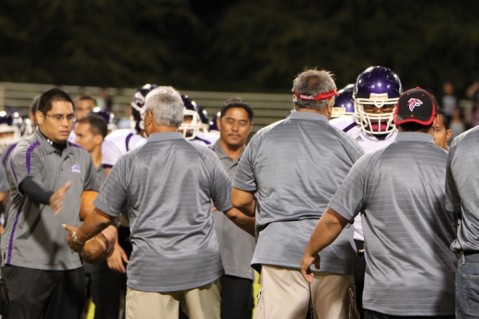 Photo by Barry Villamil | barry@mypearlcity.com
Legendary high school football state championship head coach Cal Lee (second from left)

and current Falcons assistant coach, reaches out, along with the Falcons coaching staff,

to the Chargers coaches and players during the post-game handshake.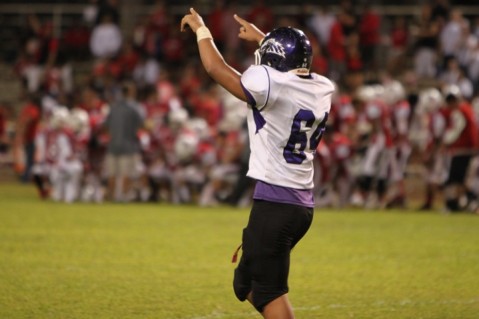 Photo by Barry Villamil | barry@mypearlcity.com
GO CHARGERS!