The Pearl City Chargrers and Village Park Warriors went head to head in Pop Warner Football Pee Wee Division competition on Saturday, October 19 at the Warriors home field in Village Park.
The Warriors won the game 25-6 after battling the Chargers over four quarters of play.
Congratulations to both teams for their efforts in a well played ball game!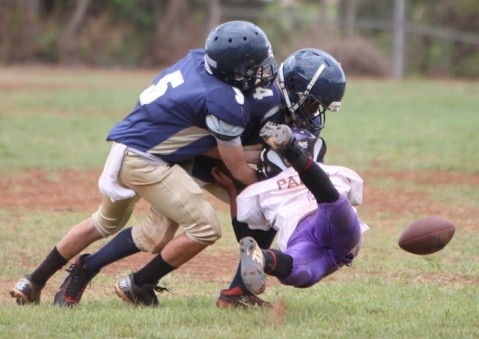 Photo by Barry Villamil | barry@mypearlcity.com
Pearl City's Robbie Paikai dives for the ball with two Warrior defenders on his back in the third quarter.

2013 Pearl City Chargers Pee Wee Football Team

69 Mako Ader, 10 Makana Canyon, 70 Gannon Chinen, 7 Ezra Kaina, 12 RJ Kami,
9 Tex Kang, 17 Branson Kelly, 25 Dayton Leong, 14 Dustin Leong, 89 Zander Manuel,
4 Robbie Paikai, 6 Gabriel Parrish, 33 Kona Raymond, 66 Cameron Saba,
44 Christopher Scott, 15 Jordan Sofa-Vergara, 13 Prince Soloman, 32 Nicholas Sonan,
18 Joao Toarez, 21 Azeiah Yom-Mendoza,
Head Coach

Josh Canyon

Coaches

Mike Sonan

Rob Paikai

Tai Utoafili

David Kaina

Rob Kami