The Pearl City Chargers ruled the alley once again after sweeping both the girls and boys Oahu Interscholastic Association Team Bowling Championship titles on Thursday, October 17 at the K-Bay Bowling Center in Kaneohe.
The Chargers dominated the competition as the boys brought home their fourth OIA Team Championship in a row while the girls captured their third straight OIA Team Championship.
In the boys competition, the Chargers outscored second place Aiea 5641-5390 for a 251 pin victory. Moanalua (4937) and Castle (4814) rounded out the scoring in third and fourth place.
Pearl City's Nicholas Azumi won the individual title with a total pin count of 1,214 with a 202.33 average. The Chargers took four out of the five top spots. Finishing in second place was teammate Ken Hayase-Fong with a pin count of 1,195 for a 199.17 average. Hayase-Fong was followed by Leilehua's Brendyn Naval 1,148 (191.33), Keenan Kihara PC 1147 (191.17) and Kristopher Yadao PC 1135 (189.17).
The Lady Chargers rolled to a 238 pin victory over second place Mililani 4979-4741. Moanalua (4706) and Castle (4195) finished in third and fourth place.
Mililani's Danielle August won the girls individual title with a pin count of 1,083 (180.50). Pearl City's Chelsi Morishige was the top finisher for the Lady Chargers in third place with a pin count of 1,072 (178.67). Morishige was followed by teammates; (4th) Kristin Frost 1,037 (172.83). (6th) Ashlyn Castro 1,035 (172.50), and (13th) Kylie Malilay 966 (161.00).
Lady Charger sophomore bowler Kristin Frost has two OIA team championships and one state team championship under her belt, so far, in her high school career. She is proud of the accomplishments of both the boys and girls teams and is looking foward to competing in a couple weeks for a third state championship and beyond.
"It feels great to repeat," said Frost. "It's good that both the boys and girls teams can celebrate together and nobody is left out. I hope we can win states again and hopefully do it again in my junior and senior years."
The Chargers head off to the 2013 Billy Tees State Bowling Championships on Thursday, October 31 and Friday, November 1 at the Hickam Bowling Center. The boys enter the state tournament as the three- time defending state champions while the girls enter competition as the two-time defending state champions.

Congratulations to the Pearl City Chargers along with head coach Jimmy Hayashi (boys) and head coach Millie Gomes (girls). Good luck in the states!
Mahalo to Lisa and Chelsi for the great photos!

PEARL CITY CHARGERS

2013 OIA BOYS TEAM BOWLING CHAMPIONS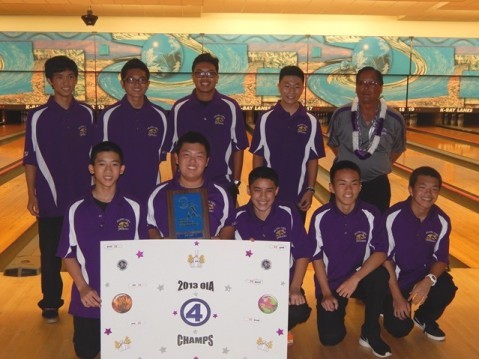 Photo courtesy of Chelsi Morishige
Top row: Kristopher Yadao, Nicholas Azumi, Aaron Rafael, Ryan Kajihiro, Coach Jimmy Hayashi
Bottom: Keenan kKhara, Ken Hayase-Fong, Bradley Nakamura, Skyler Wakumoto, Blaise Morishige.
PEARL CITY LADY CHARGERS

2013 OIA GIRLS TEAM BOWLING CHAMPIONS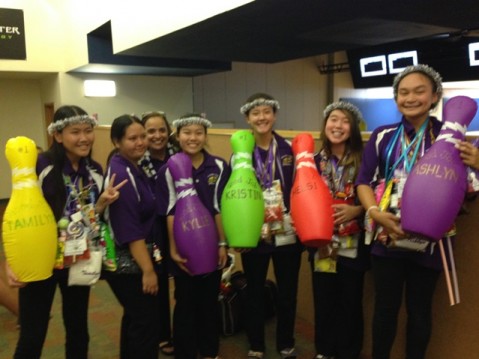 Photo courtesy of Lisa Frost
(Pictured from left to right) Tamilyn Ogawa, Sasha Calistro- Nomura, Coach Millie Gomes,

Kylie Malilay, Kristin Frost, Chelsi Morishige, and Ashlyn Castro.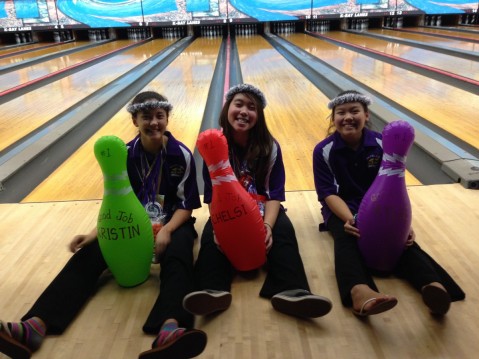 Photo courtesy of Lisa Frost
(Pictured from left to right) Kristin, Chelsi, and Kylie.
GO CHARGERS!