This week, Nalo Farms Leeward Farmer's Market features Pacific Gateway Center as the "Business of the Week" in the Team Nalo spotlight. Noah Unabia and wife Sachiko from Hoa Moa Farms represents the Pacific Gateway Center that farms fresh locally grown produce through PGC programs that provide opportunities for Asian and Pacific Island immigrants to become self-sufficient.
The Unabia's sell PGC Farms fresh produce and iced tea drinks every Sunday at the Nalo Farms Leeward Farmer's Market located in the expansive parking lot of Leeward Community College in Pearl City.
Noah and Sachiko will brighten up your day with a friendly, warm welcome as you stop in to visit and check out their fresh and healthy line of products.
NALO FARMS LEEWARD FARMER'S MARKET
"BUSINESS OF THE WEEK"
Pacific Gateway Center
Noah and Sachiko Unabia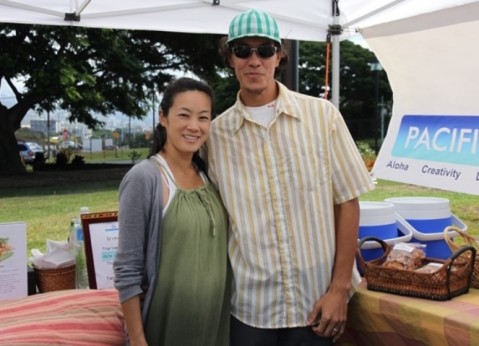 Photo by Barry Villamil | [email protected]
Noah and Sachiko Unabia pictured at the Leeward Farmer's Market on Sunday, November 2, 2013.
Q&A

Can you tell us about your product line and its connection to the Pacific Gateway Center and programs like the PGC Kitchen Incubator Training Program?
"I'm selling produce for the Pacific Gateway Center that's farmed by the Pacific Gateway Center Farm," said Noah Unabia. "The Pacific Gateway Center creates opportunities for migrate people. They're located at Umi Street in Kalihi. It's where the Kitchen Incubator is which has been a really good project to allow people to use their commercial kitchen to create products to sell to start a face for their business."
Where is the PGC Farm and how successful is the bounty produced annually?
"They decided a year ago to buy farmland, five acres in Kunia, and to have it farmed by migrant famers who have those skills. We're selling produce produced by those farmers. To sell this volume of produce in just a year of production is really a feat. It's really a good thing."
What do you currently grow at the family owned Hoa Moa Farm?
"At Hoa Moa Farm we produce organic pasture raised eggs locally here on the North Shore. We also have a five acre plot in Kunia that we are developing. To increase the resilience and stability of it we're planting trees to elevate it. Native trees if possible. We put some Koa in there and some other native trees like Ko, hardwoods, precious hard woods, and other things and also some citrus as well for production."
How fulfilling is it to be involved as a business in the local farming industry?
"To me, to be outside and to make a small difference in a small place, it fulfills my personal goals with sustainability and with living organically. I try to make a difference in my life as a consumer to choose to buy things that make a difference and make ethical choices and with consumption. To be able to produce in that direction, to me, feels really good."
What type of items are you selling today?
"Today we've got golden tomatoes, a lot of eggplant, and we've almost sold out on a few of our things. The cucumbers are really popular and our banana chips are a big seller. We also sell sugar free, organic, non GMO oil, local apple banana chip."
How has the experience been interacting with the crowd as a vendor at the Leeward Farmer's Market?
"It's wonderful. It's a steady crowd. It has nice pulses and we've been happy to build that repetition with the customers. To see the same customers every week and to greet them and show them what we have different this week."
Anybody that you would like to say mahalo too?
"With the Pacific Gateway Center, Dr. Myaing is wonderful for putting this whole thing together and being the "heart" behind it. Dr. Soo Sun Choe is also wonderful for organizing it and pushing for an ethical selling operation, and my wife Sachiko who does this with me each week, as well as my parents with Hoa Moa Farms."
How have you seen the industry change with the growing support by consumers to incorporate healthy eating habits and sustainability in their daily diets?
"I'm encouraged that people are changing. Over the last ten years, people are really supporting local produce, organic produce, and they're willing to come out here to meet with the producers and to be with whoever they're sending to sell their things and take it home with them. I'm really encouraged on how our society is changing."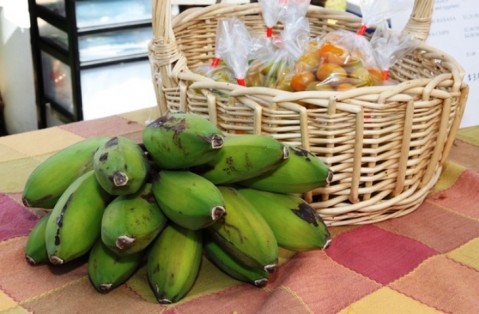 Photo by Barry Villamil | [email protected]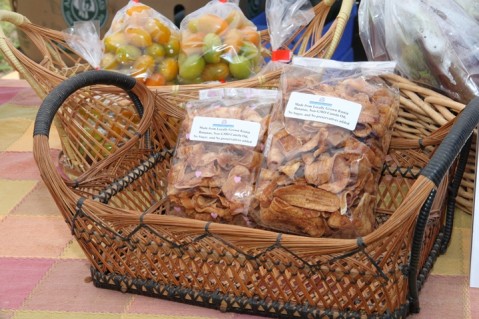 Photo by Barry Villamil | [email protected]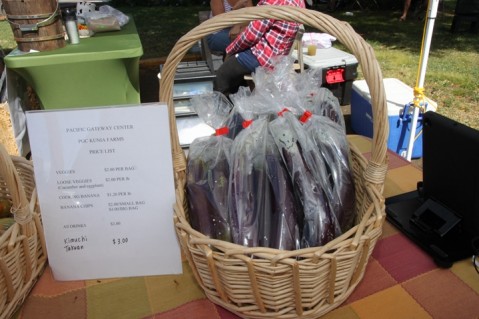 Photo by Barry Villamil | [email protected]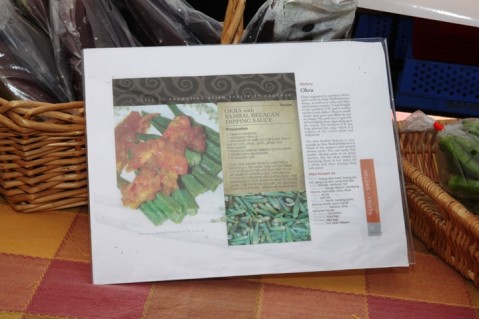 Photo by Barry Villamil | [email protected]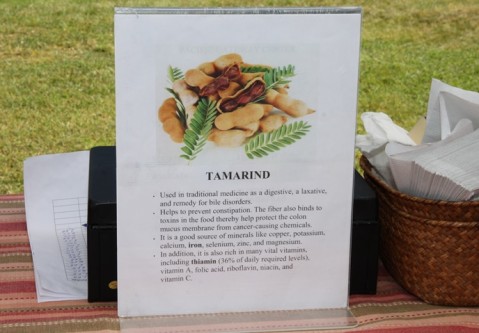 Photo by Barry Villamil | [email protected]
Photo by Barry Villamil | [email protected]
Congratulations to Noah and Sachiko who will soon have a new addition arrive in the Unabia ohana.

To learn more about the Pacific Gateway Center's programs log on to: www.pacificgatewaycenter.org

Leeward Farmer's Market Hours of Operation
The Nalo Farms Leeward Farmer's Market is open on Sunday's from 9:00am to 12:30pm at Leeward Community College's Parking Lot C.