Organizers of the Hawaii Triple Crown of Brazilian Jiu-Jitsu hosted the 2013 Aloha State Championships on Saturday, November 23 at the Pearl City High School gymnasium. Saturday's championships were the third of three championship tournaments that make up the Triple Crown Series.
Jiu-Jitsu fighters representing kids through adults competed in different weight divisions. Medals were awarded for 1st, 2nd, 3rd place finishers. Hawaii Triple Crown Champions are invited to return to next year's championships to defend their titles.
Hawaii Triple Crown co-coordinator Romolo Barros, along with Hawaii Triple Crown's, Claudia "The General" Tzaschel, and a core of staff and Jiu-Jitsu school volunteers from around the islands, put together and run the Triple Crown Series each year. The duo of Barros and Tzaschel work hand in hand to ensure a successful Hawaii Triple Crown Series and Championship Tournament each year.
'The Triple Crown 'Queen' is always here," said Barros. "If she cannot be here, I cancel the event and do it a different day, that's how important she is, added Barros with a laugh and a smile. "Claudia is always here with a beautiful smile, welcoming everybody in, and helping everybody. The amount of people that we have here today, they stop and we help them out. I also have a lot of our own guys from our school and other schools that come and help out."
Barros is a 5th degree black belt under legendary Jiu-Jitsu Champion Rickson Gracie, and has lived in Hawaii for the past thirty years. He enjoys teaching Jiu-Jitsu at his Brazilian Freestyle Jiu-Jitsu / Gracie Elite Team School and also travels around the world teaching the art of Jiu-Jitsu while spreading the message of Aloha.
"Hawaii is the best place in the world to live. We wanted to make it the best for Jiu-Jitsu competitors and for our community because I think that Jiu-Jitsu is the best thing to have in our community. Jiu-Jitsu itself is a beautiful art."
Along with the adults competing, the Aloha State Championships gave the kids from as young as 5 years old a great opportunity to compete in the sport of Jiu-Jitsu.
"For the kids to grow in this environment is a great thing," Barros said. "When you see the kids competing, it's amazing to see them at that young age doing all the moves and getting the submissions and having fun! All the kids who came here today went home with a medal. Even if they lost, they took home a medal. What it does for them, mentally, it's such a great thing. It uplifts them and gives them the confidence. That's my goal, as well as for the adults, is to help them. I love to watch them competing and I love to watch them training. Today, we had as young as 5 years old to 50 years old at the event, probably some guys a little older than 50."
Next year, the state championship will be held the Blaisdell Arena while celebrating the 10th Anniversary of the Hawaii Triple Crown and a new rules format that is designed to improve and make the sport more exciting.
"The first event next year we will probably do the state championship inside the MMA Hawaii Expo which is at the Blaisdell, a two day event," Barros said. "It think it will be in March, but we don't have the exact date yet. At that event we are going to implement all the new changes, all the changes with the rules which I think will really help the event. Next year will be the 10th Anniversary of the Hawaii Triple Crown and we're looking into changing and upgrading the event in a way that we never had any event like that in Hawaii."
Should be exciting! It was fun watching and learning the art of Jiu-Jitsu from the experts and competitors in a championship setting. Thank you to Romolo, Claudia, and Dr. James Scoggin for their help on Saturday!
For more information about the Hawaii Triple Crown of Brazilian Jiu-Jitsu, log on to: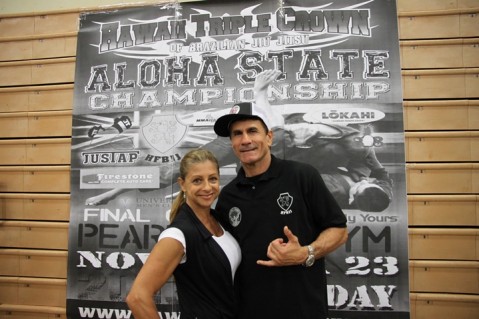 Photo by Barry Villamil | barry@mypearlcity.com
Claudia Tzaschel and Romolo Barros from Hawaii Triple Crown of Brazilian Jiu-Jitsu
Photo by Barry Villamil | barry@mypearlcity.com
Jiu-Jitsu fighter Dr. Donald Gaucher (left) is pictured with tournament physician James Scoggin
on Saturday in front of the awards podium inside the Pearl City High School gymnasium.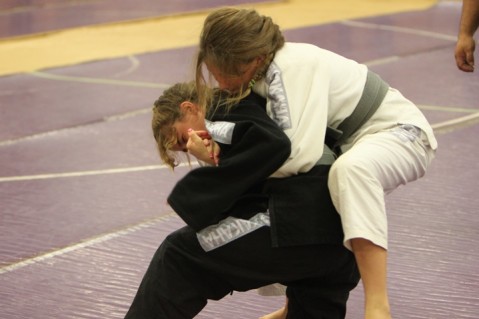 Photo by Barry Villamil | barry@mypearlcity.com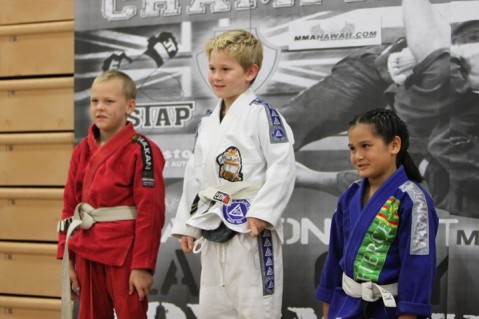 Photo by Barry Villamil | barry@mypearlcity.com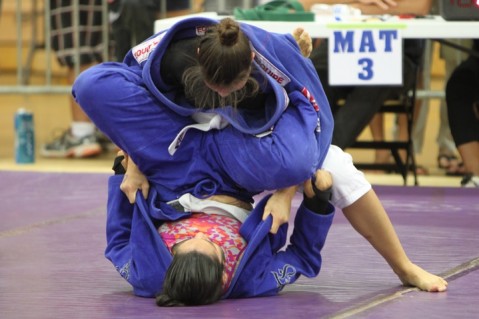 Photo by Barry Villamil | barry@mypearlcity.com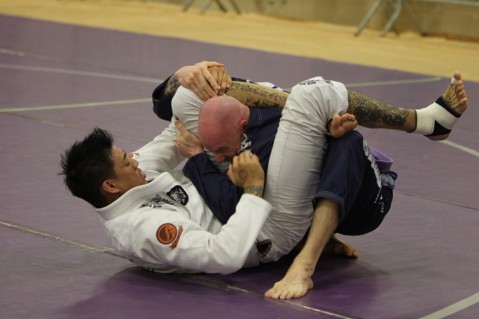 Photo by Barry Villamil | barry@mypearlcity.com